One Year After 'Charlie Hebdo' Attack, Paris Memorializes Victims With Art and Tributes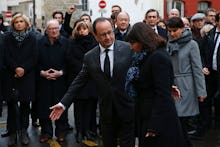 Benoit Tessier/Getty Images
As France remembers the victims who died in the terror attack on Paris-based publication Charlie Hebdo one year ago, an affront which left 12 people dead and rocked the capital city, and the world, France is marking the commemoration with multiple memorials as supporters grace the streets with colorful offerings and artful displays.
On Jan. 7, 2015, radical Islamic terrorists stormed the publication's headquarters after it ran satirical cartoons of the Prophet Muhammed. One year later, France and its citizens are still healing, and a number of tributes played out in Paris to honor the lives lost.
Read more: 
France has erected four memorials in the form of plaques, and street art trumpeting the survivalist slogan "Je Suis Charlie" continues to appear on any surface text that can be penned, painted or printed. French President François Hollande appeared Tuesday at the unveiling of the first memorial plaque at the scene of the attack, according to the Associated Press, accompanied by Paris Mayor Anne Hidalgo. 
State officials and individuals showing solidarity attended the inauguration of a second plaque at the site where one of the gunmen shot and killed police Officer Ahmed Merabet. A third plaque debuted at a kosher market called Hyper Cacher, where four people were taken hostage and killed on Jan. 9, 2015, according to CNN. A fourth plaque will be erected Saturday, the CBC reported, to honor Clarissa Jean-Philippe, a French police officer gunned down by one of the attackers in a Parisian suburb on Jan. 8, 2015. 
An Instagram post Tuesday from Hollande reads, "This morning I unveiled with Anne Hidalgo three plaques commemorating the January 2015 attacks in Paris." 
Elsewhere on social media, Twitter users shared photos of the street art and plaque remembering Merabet.
It's been a long year of carnage and darkness for Paris. Following the attack on Charlie Hebdo, Paris fell victim to a series of attacks on Nov. 13 at the hands of the Islamic State group, or ISIS, that left at least 129 dead. Following the attacks, Charlie Hebdo published another of its signature covers in a display of resilience. And again, one year later, the publication has created cover art that fearlessly addresses terrorism.
In an effort to perhaps add a bit of levity, hope and healing in the wake of ongoing terror in France and around the world, here's a series of photographs that capture both the works of art and the memorial displays built of flowers and candles, which represent resilience above all else.