4 Reasons Why "GOP Rising Star" Nikki Haley Is Giving the 2016 State of the Union Response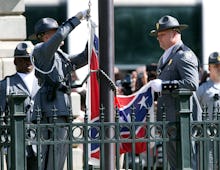 John Bazemore/AP
South Carolina Gov. Nikki Haley will deliver the response to President Barack Obama's State of the Union Address on Jan. 12, according to Reuters. Each year, the sitting president speaks before Congress, outlining the coming year's objectives; each year, a member of the opposing party gives a speech in response. "Nikki Haley is a proven leader and committed reformer, who believes deeply in the promise of the country we all share," Senate Majority Leader Mitch McConnell reportedly said of the governor in a statement.
According to NBC, the role of response speaker is often given to "a rising star" within the party; Haley could be considered a somewhat out-of-left-field (or right field, as the case may be) choice for the GOP, as it doesn't often feature prominently in reporting on the Republican fray. And yet Haley fits the bill. Here are four reasons why Haley is considered a bright light by the Republican party.
1. She called for the removal of the Confederate battle flag from the South Carolina Statehouse.
On July 9, Haley signed into law a bill that provided for the removal of the Confederate battle flag from the Statehouse. As protesters blasted the flag as a symbol of racism and oppression, Haley held to the call for its removal she'd issued in June, in response to the Charleston church shooting. According to Politico, her "decisive action to drive the final removal of the banner from Statehouse grounds" was a boon to her reputation in advance of the "2016 Republican veepstakes." And while it can be said that Haley simply did what should have been done long before, she did turn the oft-employed rhetoric of Confederate flag proponents — who've tended to stick to the argument that the flag is a part of South Carolina's tradition and should be preserved as such — neatly on its head.
"In South Carolina we honor tradition, we honor history, we honor heritage, but there's a place for that flag and that flag needs to be in a museum, where we will continue to make sure people will honor it appropriately," she told Matt Lauer on NBC's Today. "But the Statehouse, that's an area that belongs to everyone. And no one should drive by the Statehouse and feel pain. No one should drive by the Statehouse and feel like they don't belong."
2. She's been a few of the state's firsts in her time as governor.
According to the State, Haley is the state's first female governor, first minority governor (her parents immigrated to the U.S. from India) and the youngest governor, not just in South Carolina, but in the country. In a party typically associated with old white men, Haley may be viewed as a much-needed fresh face. As Salon reported in December, it's critical to the GOP's continued existence that it become more inclusive and expand its demographic appeal.
3. She opposes Obama's stance on refugees.
It's unlikely that the question of whether or not the U.S. should continue to admit Syrian refugees won't come up in Obama's speech. It's been one of the most talked-about issues in weeks past and remains a polarizing topic for Democrats and Republicans. The president is adamant that we keep our borders open to refugees: In his Dec. 15 speech at a Washington, D.C., naturalization ceremony, he reminded the audience that the U.S. is a nation of immigrants. "Just about every nation in the world, to some extent, admits immigrants," Obama said. "But there's something unique about America. We don't simply welcome new immigrants, we don't simply welcome new arrivals — we are born of immigrants. That is who we are."
Many Republicans disagree — Haley among them. In the month before Obama's naturalization ceremony address, the South Carolina governor wrote a letter to Secretary of State John Kerry asking that refugees not be resettled in her state unless the State Department could guarantee that they were absolutely free of ties to terrorist organizations. "While I agree that the United States should try to assist individuals in such dire situations," she wrote, "it is precisely because of the situation in Syria that makes their admission into the United States a potential threat to our national security." That she both opposes refugee resettlement within her state and is able to explain her reasoning calmly might have made her a more appealing choice to a party that will want to refute the president's rhetoric on the refugee question. 
4. She recently took Trump to task.
The Republican party's relationship with Donald Trump is a complicated one: He's still their frontrunner, but so far, pundits and politicians don't seem pleased about it. Haley, however, was clear on her opinion of The Donald following his call — which he issued to a South Carolina crowd — for a "total and complete shutdown" of Muslims coming into the U.S. "It defies everything that this country was based on, and it's just wrong," she reportedly said of Trump's statement, calling him "an embarrassment" to the GOP — which may be exactly the kind of thinking Republicans are looking for in a spokesperson.
Correction: Jan. 5, 2016