'Making a Murderer': Steven Avery Is Pointing Fingers at His Two Brothers Charles and Earl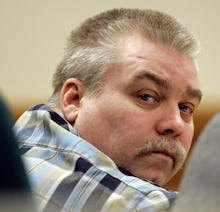 Morry Gash/AP
Naturally, Netflix's hit series Making a Murderer, which came out via the streaming service on Dec. 18, has people coming up with all sorts of theories as to who raped and murdered Teresa Halbach in 2005. However, the show's questionably innocent protagonist Steven Avery has filed legal documents accusing his brothers Earl Avery and Charles Avery of killing Halbach, TMZ reported Wednesday. 
The documents are from 2009, and in them, Avery claims that his two brothers were trying to frame him, to take both the family business and the multi-million dollar settlement money from his false conviction, TMZ reported.
Read more:
In the documents, Charles Avery, was said to have been aggressively pursuing and scaring multiple women trying to receive their car from the Avery's junkyard, according to TMZ. He would drive by their house, send them flowers and show up at their doorstep to ask them on dates. Charles allegedly harassed the women within the month that Halbach was reported missing. 
Other than the women from the junkyard, the two brothers have a history of assault. In the 1990s, Charles Avery was charged with sexually assaulting his wife and strangling her with a telephone cord, Milwaukee Magazine reported. The younger brother Earl Avery also spent time in jail and on probation for multiple incidents in the 1990s, such as beating his wife and sexually assaulting a child, Milwaukee Magazine reported. 
Avery's own criminal record includes breaking into a bar to steal beer, some money and two sandwiches, Milwaukee Magazine reported. He was also caught for animal cruelty for throwing a cat into a fire. 
But Halbach was last seen with Avery before her disappearance in 2005, according to Slate. This was just two years after his release from the 18-year false sentence, according to the Today Show.
Halbach's remains and car were found on the Avery lot, leading to Avery's arrest, according to Slate. But none of her blood, hair or other DNA has been found in his bedroom or garage. His blood sample also resulted in negative to being found in her car. 
Still, he's now been sentenced to life in prison, according to the Today Show. Fans of the show have set up online petitions for Avery to earn a presidential pardon.