8 Special Guests We'd Love to See Perform With Coldplay at Super Bowl 50 Halftime Show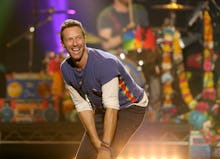 Matt Sayles/AP
Super Bowl halftime shows are known for their surprise performers and special guests. Last year Missy Elliott joined halftime performer Katy Perry and performed an awesome mash-up of some of her hits. In the 2013 Super Bowl halftime show, headliner Beyoncé was joined by her old Destiny's Child crew, Kelly Rowland and Michelle Williams, and in 2012 Nicki Minaj and M.I.A. sang and rapped with Madonna. 
So what surprises will this year's show have in store? Here are eight performers we'd like to see onstage with headliner Coldplay at the Super Bowl, which takes place Feb. 7 at Levi's Stadium in Santa Clara, California.
1. Justin Bieber
Hear us out: It's been a banner year for the Biebs, with the release of an album, tearful performance at the MTV Video Music Awards and a more mature sound. It would make sense for Bieber to pop up onstage with Coldplay at this year's show, and he would appeal to the youths who don't even know who Coldplay is. Think of the children!
2. Drake
Drizzy's new album is rumored to drop any day, making this a great time for him to show up at the Super Bowl. We know he's Canadian, so maybe he's not the biggest NFL fan in the world, but Coldplay is British so whatever. How badly do you want to hear "Hotline Bling" at the Super Bowl?
3. The cast of Broadway's Hamilton
OK, this will never happen in real life but how awesome would it be if it did? Historical hip-hop musical Hamilton totally owned 2015 — and what could be more American than star Lin-Manuel Miranda playing founding father Alexander Hamilton while rapping at the biggest football game of the year? This would also be an awesome way to bring the musical to millions of people who can't see it on Broadway. 
4. Adele
Adele is already on top of the world after the release of her album 25, and the announcement of an upcoming U.S. tour. What better way to celebrate selling more than 7 million copies of her album than dropping by to say "Hello" at the Super Bowl?
5. Rihanna
She is yet another artist whose new album is scheduled to arrive soon, making it the perfect time for her to show up at the halftime show. And rumors are swirling that she might actually be in talks to make an appearance alongside Coldplay, so this pick may actually pan out. 
6. Kanye West
West's new album, Swish, will be out soon — allegedly. He recently declared himself  the "No. 1 rock star on the planet," so who could be a better guest for the Super Bowl?
7. Selena Gomez
Honestly we just want to see Gomez perform "Hands to Myself" live because that song is awesome. Bonus points if Chris Martin sings along with her.
8. Missy Elliott
Yes, we know Missy Elliott was last year's surprise guest, but it was just so good that we want an encore. Seriously, ask anyone, she stole the show — and what better way to follow up a triumphant comeback than with another triumphant comeback?