'Shades of Blue' Season 1: Full Preview and How to Watch Live or Online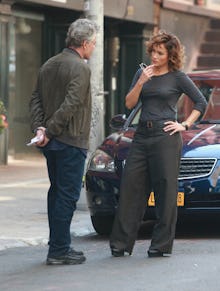 KGC-146/STAR MAX/IPx/AP
NBC's highly anticipated, new police drama Shades of Blue will premiere on Thursday, and it will feature some megastars in the leading roles. Jennifer Lopez will star as New York Police Department Detective Harlee Santos and Ray Liotta will play her superior in the department, Lt. Matt Wozniak, according to the series' page on the NBC website.
It turns out that the "enigmatic" Wozniak likes to play fast and loose with the law in his investigations, and just before "a big illegal job," Santos will be cornered by the FBI and forced to rat on her "tight-knit unit," according to the NBC summary. The series will premiere Jan. 7 at 10 p.m. Eastern on NBC, and already has a page on the streaming website Hulu.
The series will also star Sopranos actress Drea de Matteo and Hunger Games actor Dayo Okeniyi. NBC had plenty of success with NYPD drama Law & Order and its spin-offs and is likely hoping to strike police-gold again with this new drama, which features actors who are veterans of award-winning cable shows.
The trailer seems to indicate that the show will tackle plenty of issues related to police corruption — in one clip, Lopez's character seems to fake a crime scene after her partner fatally shoots a young man holding a video game controller.
Shades of Blue was created by Adi Hasak and executive producers include Jennifer Lopez, Jack Orman and Ryan Seacrest.