Seeso Streaming Service: Full Preview, Cost and How to Sign Up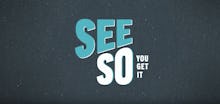 Mic/YouTube
Comedy junkies, rejoice: 2016 ushers in Seeso, a streaming service by NBC made exclusively for comedies. According to Seeso's website, the service is ad-free and provides "all the comedy you can watch." Seeso is offering a free online beta from Dec. 3 to Jan. 6 for the curious comedy connoisseurs. 
What exactly is Seeso? Seeso offers only comedy programming. "Seeso members have access to extensive hours of premium HD comedy and new original content added every week," according to the website. According to the Hollywood Reporter, Seeso has more than 20 original series planned for the first year. The service will allow subscribers to stream hits — such as The Office, 30 Rock and Saved by the Bell — and classics such as Monty Python's Flying Circus and The Kids in the Hall. Seeso will also offer British comedies, stand-up and next-day viewing of The Tonight Show Starring Jimmy Fallon, Late Night With Seth Meyers and Saturday Night Live. Seeso has been posting preview clips of some of its original content on YouTube. 
Cost and how to sign up: The free beta version of Seeso ends Jan 6. Sign up starts Jan. 7 and subscriptions are $3.99 a month, which is "less than a latte," according to the website. In comparison, Hulu is $11.99 monthly for ad-free viewing and Netflix is $7.99/monthly for basic video. 
Why Seeso? In an ever-crowded streaming market, Seeso is aiming to differentiate itself and target a niche audience, according to Verge. "By focusing on a specific, yet large niche, and providing a curated experience, we can help viewers find good stuff they might not or cannot find," Evan Shapiro, executive vice president of digital enterprises at NBCUniversal, said, according to the Hollywood Reporter. "Seeso is your neighborhood comedy eatery, with daily specials from a chef you trust."