The California Drought Is So Bad Even El Niño-Caused Flash Flooding Isn't Enough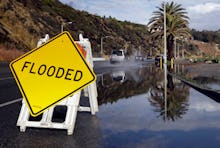 California is parched and not even storms brought by El Niño can quench it — but they can try.
The state received the first of these storms on Tuesday as it braces itself for the next two weeks, during which time up to 15 inches of rain could fall, as well as about 24 inches of snow in higher altitudes. 
"A parade of strong Pacific storms characteristic of a strong El Niño event will batter the state this week and will likely bring damaging flooding by the time the second storm in the series rolls through on Wednesday," Jeff Masters, Weather Underground's meteorology director, told the Associated Press.
Heavy rain storms are expected to continue this week, and parts of Orange County began a voluntary evacuation due to fears over mudslides.
But California's drought is so severe that it will take years of a "steady parade of storms" to replenish aquifers and reservoirs, Mike Anderson, a California Department of Water Resources climatologist, explained to the AP. Residents are therefore cautioned to continue measuring their water consumption. 
The Police Department for Arcadia, a city near Los Angeles in Southern California, tweeted warnings regarding the flooding and subsequent road closures.
Similar warnings came from the Los Angeles County Fire Department Lifeguard Division's official Twitter account: 
El Niño occurs when trade winds across the Pacific Ocean, which usually flow east to west, weaken, allowing for the warmer parts of the ocean to expand in the middle and eventually reach the shores of North and South America, according to the United Kingdom's national weather service. The change in temperature and atmospheric pressure alters weather patterns dramatically. 
This current incarnation of El Niño is expected to be one of the worst in history, rivaling the dramatic storms of 1998.
The season has barely begun for California and it's already starting to wreak havoc. 
Watch below for a thorough explanation of the El Niño weather pattern: