Hillary Clinton and Bernie Sanders' New Fight: Who Can Beat the GOP?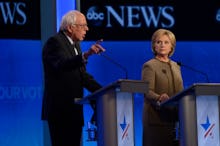 Democratic presidential rivals Hillary Clinton and Bernie Sanders have sparred over issues like gun control, Wall Street reform, taxes and college tuition. Their latest skirmish, though, centers not on policy, but on a much more tactical question: Which of the two candidates is most likely to keep the White House out of Republican hands in November?
The Clinton pitch: As the Feb. 1 Iowa caucuses rapidly approach, the Clinton campaign has ramped up its electability argument in recent days, not-so-subtly suggesting that a certain democratic socialist senator from Vermont is a risky general election bet for Democrats. That pitch has come from both Clinton and her husband, former President Bill Clinton, who made his first solo appearances of the 2016 campaign in New Hampshire this week.
Stumping Monday in Davenport, Iowa, Hillary Clinton told voters, "I am absolutely determined that we're going to make sure we have a Democrat to succeed President Obama so we don't let the Republicans rip away the progress we have made together." Bill Clinton sounded a similar theme in New Hampshire, touting President Barack Obama's accomplishments on issues like the economic recovery while warning that the "scary" crop of GOP presidential hopefuls could derail progress and substantially reshape American politics in a more conservative mold.
"We need to recognize something that has received almost no attention in this election, which is that the next president of the United States will make between one and three appointments to the United States Supreme Court," Clinton said. "And I know who I want doing that."
It's become a familiar refrain as the former secretary of state seeks to consolidate Democratic support by hammering the rightward-drifting Republican Party. In last month's Democratic debate, Clinton opened by stating, "I'm very clear that we have a distinct difference between those of us on this stage tonight and all of our Republican counterparts. From my perspective, we have to prevent the Republicans from rolling back the progress that we've made." 
The subtext: Clinton's the one who can stop that from happening.
Clinton sharpened her electability pitch Tuesday evening, during a campaign appearance in Council Bluffs, Iowa. 
"Think hard about the people representing themselves to you," the New York Times quoted Clinton as saying. "Their experience, their qualifications, their positions and particularly for those of us who are Democrats, their electability and how we make sure we have a Democrat going back into that White House on Jan. 20, 2017."
Though Clinton has yet to explicitly cast doubt on Sanders' electability, some of her allies haven't hesitated to do so. Appearing on MSNBC's Morning Joe this summer, Sen. Claire McCaskill (D-Mo.) questioned whether a self-professed socialist could defeat the GOP, saying, "I think Bernie is too liberal to gather enough votes in this country to become president, and I think Hillary Clinton is going to become a fantastic president." And as Sanders built a lead in New Hampshire and pulled closer to Clinton in Iowa in September, the pro-Clinton super PAC Correct the Record blasted out an email linking Sanders to controversial left-wing figures like the late Venezuelan President Hugo Chavez.
The Sanders pushback: In the face of both implicit and explicit attacks on Sanders' electability, Sanders' campaign has mounted a concerted pushback against the notion that he would be a weaker nominee against the Republicans.
After Clinton's remarks Tuesday, a Sanders campaign spokesman fired back, "Bernie fares much better against [GOP frontrunner Donald] Trump than Secretary Clinton does. That's electability."
Polling averages actually show Clinton faring slightly better against Trump — RealClearPolitics finds her with an average lead of 4.8 percentage points, compared to Sanders' two-point lead over Trump — but a recent Quinnipiac University survey did give Sanders a 13-point lead over Trump, while Clinton enjoyed only a 7-point edge.
Appearing Wednesday on ABC's Good Morning America, Sanders pointed to the poll as evidence of his superior electability:
Meanwhile, Sanders currently performs about the same or even a bit better than Clinton against Trump's closest GOP rivals, Sens. Ted Cruz of Texas and Marco Rubio of Florida. According to RealClearPolitics, Rubio leads Sanders by 1 percentage point and Clinton by 1.3 points, while Cruz ties Clinton but loses to Sanders by 3.3 points.
Of course, national polls this far out from Election Day tell us little about who will emerge victorious in the fall, and it's unclear how Sanders would handle the barrage of heightened media scrutiny, opposition research and cries of "socialist!" that would come with a general election campaign. Clinton, by contrast, offers herself to Democratic voters as a tested veteran of the national political scene; the recent furor over her email practices during her State Department tenure, though, underscores that new tests may yet arrive.
The bottom line: What's the Democrats' electability fight really all about? In the most obvious sense, it provides the candidates an opportunity to gin up progressive enthusiasm about the election, by reminding Democratic voters of the fragility of the Obama administration's achievements and the very real policy consequences of electing a Republican president.
When Bill Clinton called that scenario "scary" this week, he reflected fears on the parts of many Democrats hoping to buck recent historical trends and hang on to the White House for a third consecutive term. In an era of increasing partisan polarization, with Republicans becoming ever-more conservative and Democrats embracing a more progressive line, Democratic and Republican partisans are more aware than ever of the policy and ideological stakes of the upcoming election. For Democrats, it's all about staving off the hard-right Party of Trump; to hear Republicans tell it, another Democratic president would mean the Europeanization (or worse) of America.
Ultimately, then, the Democrats' squabble over electability serves primarily as a reminder of the ferocious battle to come.