Anonymous Declares War on Thai Police for Jailing Migrant Workers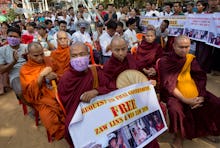 Go looking for the various websites of the government of Thailand, or perhaps just those of its metropolitan police, and instead you might see the following screen:
Anonymous has yet again identified a foreign injustice and has set its sights on righting it — or at least taking down some websites to draw attention to the cause. This time, it's the jailing of two Burmese migrant workers who have been accused of the murder and sexual assault of two British backpackers in Thailand.
"It is not the role of Anonymous here to play detective, but purely to show the flaws in this investigation..."
Anonymous laid out its elaborate reasons for attacking the Thai Police in a 37-minute video uploaded to YouTube. In it, the group shares a litany of reasons why the investigation into the deaths of Hannah Witheridge and David Miller was mishandled:
"It is not the role of Anonymous here to play detective, but purely to show the flaws in this investigation and hopefully bring some needed attention as to the similarities we are concerned with," says a spokesman in the video (transcribed in full on Pastebin). This is so "the parents of David Miller and Hannah Witheridge have no doubts as to any convictions that are handed down in the Thai court."
Anonymous isn't the only group crying foul over the convictions. Amnesty International, human rights groups and migrant worker alliances have all descended on the case, asking for an independent investigation and accusing the Thai police of executing a speedy investigation instead of a thorough one.
Retracted confessions: In October 2014, two Burmese men named Zaw Lin and Win Zaw Htun were arrested for the murder of the two British backpackers. Civil rights activists were immediately suspicious. The men were kept without legal representation, the crime scene was trampled by media and onlookers and the police publicly expressed excitement for the opportunity for the tourism business to go unhampered.
Later, the two men retracted their statements, saying that a confession had been beaten out of them by police. They said they'd simply been singing songs and drinking on the beach that evening.
The accused have become rallying figures for thousands of Burmese migrant workers in Thailand, who regularly face unlawful arrests and extortion when working abroad. And now that Anonymous has more international news outlets paying attention to the issues faced by Burmese migrants, we'll see if they keep up the heat, or simply move on to the next newsworthy crisis.