Is the Samsung S7 Getting a 5.7-Inch Screen? Here's What We Know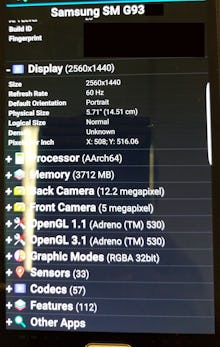 Reddit
Samsung's anticipated next flagship smartphones Galaxy S7 and S7 Edge could be on the market as early as this month, TechRadar reported, and are expected to be improved versions of the tech conglomerate's popular S6 and S6 Edge smartphones released in April. S7 specs have been leaking for a while now, the latest regarding its suspected size. A recently-leaked image suggests the phone's screen could be a monstrous 5.7 inches.
Among a list of specs leaked Dec. 29 by Reddit user mobileleaks is an alleged screenshot of the Galaxy S7 Edge that shows the phone's display to be precisely 5.71 inches — but a Tuesday report from SamMobile said the S7 Edge will feature a 5.5-inch display while the S7 will be 5.1 inches. The company has not confirmed the rumors.
Read more:
Another rumor suggests Samsung will release a Galaxy S7 Edge plus "phablet" with a 5.7-inch display in addition to the two new smartphones, TechRadar reported, so that could be what the alleged screenshot is of. 
The image reveals a list of specs aside from screen size, including a 12.2-megapixel back camera and 5-megapixel selfie camera. The S6 Edge+ includes a 16-megapixel back camera and 5-megapixel selfie cam, according to Samsung's site.
The Reddit post also said the S7 Edge will include 32GB memory, 4GB RAM and a finger print reader, all similar specs to the S6 and S6 Edge as well, according to Samsung's listed S6 specs. A Samsung insider told the Korea Times, "As the S6 and S6 Edge represented progress, the S7 will have improvements both in picture quality, performance and [some other] new features. ... The key point is, can consumers enjoy content with enhanced viewing quality and boosted processing speed."