HBO's 'Girls' Has Set an End Date for the Series — Here's What We Know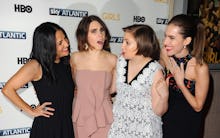 Eamonn McCormack/Getty Images
It may be the end of an era — filled with struggling into adulthood — for young Brooklynites Hannah, Marnie, Shoshanna and Jessa of HBO's Girls. The series is slated to end after its sixth season, E! Online reported Tuesday. The last season is expected to air in 2017, according to Vanity Fair. 
"Never say never, but that is the way we're thinking about it right now and we're starting to think about sort of how to wrap up the storylines of these particular young women," Girls writer, creator and star Lena Dunham said on Elvis Duran and the Morning Show, according to E! Online. "It's really exciting. I started working on this show when I was 23, and I'm going to be 30 so it kind of feels right that this show kind of sandwiched my 20s and then I go off into the world." 
Read more:
Dunham also told Vanity Fair in April that she thought American shows tend to run too long and she prefers the British television model of "in and out."
Although Girls was a success, winning an Emmy in 2012 and Golden Globe in 2013, HBO has a lineup of new series to hit the air, including Sarah Jessica Parker's Divorce, the marijuana-themed comedy High Maintenance and Vice Principals, the Hollywood Reporter reported. Not to mention, fellow Emmy-winner Silicon Valley will be returning for audiences. 
Dunham won't be leaving the HBO family just yet. Alongside Girls' co-creator Jenni Konner, Dunham is working on a new feminist comedy set in 1963 called Max, Vanity Fair reported in October. 
Dunham's fellow cast members will also be continuing to branch out. Zosia Mamet, who plays New York University student Shoshanna, starred alongside Jessica Biel in 2015's drama Bleeding Heart. Adam Driver, who plays Dunham's former boyfriend, earned himself some screen time in the latest Star Wars flick.  
Girls is about to head into its fifth season on Feb. 21 at 10 p.m. on HBO. 
A teaser for the fifth season of Girls is below: