L'Oreal Just Debuted a Skin Patch that Helps Detect When You're About to Get a Sunburn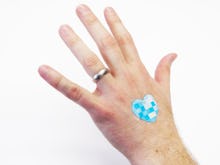 A little fun in the sun never hurt anybody — until, of course, someone gets sunburned.
But by the time that sunburn appears, it's usually too late a sign that the body has been exposed to too many of the sun's harmful ultraviolet rays, which is where L'Oreal is stepping in to help clarify things. 
The beauty company unveiled a skin patch that helps detect the wearer's exposure to UV rays. Simply called My UV Patch, the device is 1 square inch, thinner than the average hair strand and can be worn anywhere on the body, according to Fortune.
How it works: The heart-shaped patch changes colors when it is exposed to UV rays. Users then take a photo of the patch and upload it using an app, which helps determine the level of UV exposure. The little adhesive resembles a small sticker, which can be worn for days before being tossed out. 
The patch was unveiled at the International Consumer Electronics Show, the technology show taking place this week in Las Vegas. While the exact plans for distribution are still being worked out, the devices will be distributed for free and available in more than 15 countries starting this summer, a L'Oreal spokesperson told Mic via email. 
The patch, while certainly cute, can actually be powerful: Exposure to UV rays are a leading cause of skin cancer and a top concern among dermatologists. While the majority of people are aware of the harmful effects of unprotected sun exposure, far fewer actually slather on sunscreen. About 14% of men and 30% of women use sunscreen on their faces and exposed skin, according to analysis by Centers for Disease Control and Prevention published in the Journal of the American Academy of Dermatology.
Having something turn colors before you do, essentially, might help.
"It is a new way to educate consumers about their personal exposure to UV," Guive Balooch — global vice president of L'Oreal's Technology Incubator, which developed the technology — told Fortune. L'Oreal's Technology Incubator was launched in 2012 to help bridge the gap between tech and the beauty industry.
"Technology is a new way for consumers to experience beauty," Balooch added, according to Fortune. "Just developing a wearable or an app is not enough. You need to understand how the technology will invent a new way for the consumer to experience the beauty industry."
Other companies have ventured into the wearable market, of course though mostly in the form of jewelry or wristbands, Balooch told the BBC. And most aren't preventing us from getting burns.
Considering protecting yourself from sunburn is pretty much every top beauty blogger and influencer's favorite beauty tip, we'd be willing to give a sticker a shot.