Here Are the Best Reactions to Periscope's Strangely Fascinating #DrummondPuddleWatch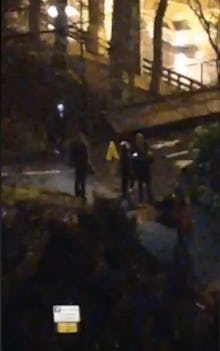 Periscope
A marketing and digital agency Wednesday set up a hidden camera over a puddle in Newcastle, England, and livestreamed the footage on Periscope so everyone could laugh as innocent people try to cross it. Now, nearly 20,000 people across the globe are currently tuning in and commenting on a live video feed of random people encountering that puddle using the viral hashtag #DrummondPuddleWatch.
One person said the puddle is about "bringing people together around the world lol," while another person said "This is almost as good as the day we all heard that Cameron shagged a pig" — both valid points. Whatever the point of this Periscope is, a live broadcast of a puddle is distracting thousands across the world from work right now and providing some of the most quality social media comedy thus far in 2016. 
Who know a puddle could trigger a procrastination epidemic? Here are some of the best reactions to #DrummondPuddleWatch: 
A useful GIF, courtesy of Twitter user @omarg.
While most are giddy with excitement over the puddle phenomenon, some cynics are determined to ruin the fun. One user wrote "You're watching a puddle. You're wasting your own time." Another Twitter user is taking his hatred of hipsters out on the poor puddle.
Once the puddle went viral, people started showing up with surfboards and other paraphernalia for a shot at 15 seconds of fame. 
Others used their own body strength and agility to overcome the obstacle.
This guy was so intrigued watching the livestream that he grabbed a raft and headed there himself.