CES 2016 Has the Internet Talking — But Not for the Reasons You'd Think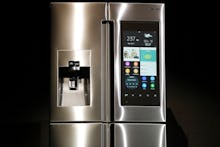 John Locher/AP
More than 170,000 tech firm employees, entrepreneurs, trade reporters, electronics enthusiasts and spectators began gathering Wednesday in Las Vegas for the annual Consumer Electronics Show, which will run through Saturday. This year is a record-breaker in terms of attendance, according to the organizer, the Consumer Technology Association. Aside from the technology and advertising business news many trade publications are reporting on, a lot of chatter is happening about a particular product that made its debut there. Aside from a "star-studded" lineup of hosts and performers, smart bras, robotic bartenders and virtual reality consoles, what really has people buzzing is Samsung's new refrigerator, the Samsung Family Hub. 
Read more:
Samsung debuted a next generation kitchen appliance so smart it knows before you do that you're low on staple foods. The Family Hub is an appliance-tablet hybrid Samsung bills as a "hub of household connections, but with a thoroughly digital twist."
"All communications are housed and displayed on a 21.5-inch full HD LCD resolution screen located on the upper right exterior door," Samsung said in a press release. "As the refrigerator's digital family command center, the screen allows you to post, share and update calendars, pin photos, share treasured kids' works of art and leave notes — all with the ease and convenience of your smartphone."
The fridge aims to deliver on the promise of the Internet of Things, which basically means connecting any object under the sun to the internet. In this case, Samsung is hoping to streamline a command center for a home's sound system, and build a central monitor for a thermostat, kitchen TV via digital mirroring, family photos and more.
The Family Hub is also built with three internal cameras that capture images each time the door is closed, which device owners can access remotely using a smartphone — say, when they're out shopping and forget what they need to pick up. MasterCard has also teamed up with Samsung to enable online grocery shopping straight from the fridge's display.  
Despite the numerous advances, not everyone is sold on the fridge.
TechCrunch's Romain Dillet made a fair point about the problem with rolling together a kitchen appliance that usually isn't replaced for years and a tablet, the technology of which advances at a quicker clip. 
"Putting a tablet in a fridge poses multiple issues," Dillet wrote. "First, you can't update the hardware. Wi-Fi standards evolve, and chances are 802.11n or 802.11ac won't be around anymore in 15 years. Similarly, your brand new shiny tablet from 2020 will be much better than the one stuck on your fridge — faster, compatible with your Wi-Fi, etc."
For better or for worse, Samsung says the Family Hub will be available to consumers in Spring of 2016. Check out the full Family Hub debut at CES here: