The #DrummondPuddleWatch Is Captivating the World and You're About to See Why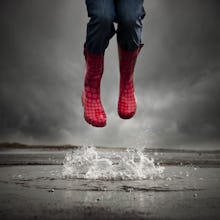 Who needs The Bachelor when you have "Drummond Puddle Watch"? 
Tens of thousands of people tuned into the livestreaming site and app Periscope to watch people try to cross a big puddle in Drummond, U.K., on Wednesday.
People brought bikes. They brought tools. Some people just blew through the puddle like it wasn't even there. Don't they see the warning sign?
One guy brought a raft. 
It's unclear if he actually planned to cross the puddle on it, but it made for an amazing selfie. 
The raft guy was no match for the man with the surfboard:
Over time, viewers started to get hooked. 
This is definitely better than most TV shows.
They mocked a person twirling an umbrella.
Someone even (allegedly) ordered a pizza.
A good time was had by all. Best of all, the hype shows no signs of slowing down. Bless this weird, wild internet.
Get the five stories that will challenge you to rethink the world by signing up for MicCheck Daily.