Kerry Washington Is Hasty Pudding Institute's Woman of the Year for a Very Good Reason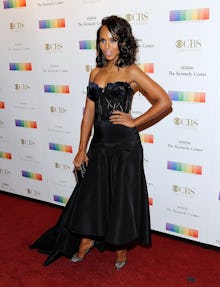 Paul Morigi/Getty Images
#BlackGirlMagic strikes again. Golden Globe and Emmy Awards-nominated Scandal actress Kerry Washington is the 2016 recipient of the Hasty Pudding Theatricals' Woman of the Year award. The organization, founded in 1795, is the oldest theatrical company in the United States.
"We are so excited to honor Kerry Washington as the Hasty Pudding Theatricals Woman of the Year and welcome her to Cambridge to celebrate her many achievements," Kennedy Edmonds, a student producer for Hasty Pudding Theatricals at Harvard University, said in a statement. "Kerry is an amazing actress with many fans in the company, and the perfect choice for this honor...But we also feel a bit nervous as we set out to coordinate a perfect event for legendary PR whiz Olivia Pope!" 
Read more:
Washington, 38, joins an extensive list of entertainers and performers, including past recipients Amy Poehler, Julia Roberts, Meryl Streep, Jodie Foster and Anne Hathaway. Here's why Washington is the 2016 Woman of the Year.
Breaking barriers: In 2012, Washington became the first African-American woman lead in a network television drama since 1974, which featured actress Teresa Graves in Get Christie Love!
Since then, Washington's success as Olivia Pope on the hit TV drama Scandal, has not only netted her Golden Globe and Emmy nominations, but has given a fresh visibility for black women on TV (think Viola Davis, Gabrielle Union and Taraji P. Henson, to name a few). Washington is also the first African-American actress to be nominated for a Leading Actress in a Drama Series Primetime Emmy since Cicely Tyson in 1995. 
Active in social justice efforts: The Scandal star was honored with several accolades over the years for her work in social justice and civil rights. She was the recipient of the NAACP President's Award in 2013, was listed as one of the Most Influential People in the World by Time magazine in 2014, and received the American Civil Liberties Union's Bill of Rights Award in 2015. 
In March, the actress gave a compelling acceptance speech when she received the Vanguard Award during the GLAAD Awards, in which she pressed the issue of equality for all regardless of race, gender or sexual orientation.
"Women, poor people, people of color, people with disabilities, immigrants, gay men, lesbians, bisexuals, trans people, intersex people — we have been pitted against each other and made to feel like there are limited seats at the table for those of us that fall into the category of 'other,'" Washington said, as she accepted the award in Los Angeles. 
"We can't say that we believe in each other's fundamental humanity and then turn a blind eye to the reality of each other's existence and the truth of each other's hearts," Washington continued, as she addressed equality for all.
In 2015, Washington teamed up with first lady Michelle Obama and actress Sarah Jessica Parker to direct attention to mental health.
Role model: The Scandal actress has become something of a role model for many women. 
Her thoughts on women's beauty standards, for one thing, were anything but stereotypical Hollywood. "I think the most empowering piece of beauty advice I've gotten is to make sure what you do works for you," Washington told InStyle magazine in July when asked about beauty tips. "If you're making choices to try and please other people, then you'll never be happy."
In September, Washington told Self magazine that she takes issue with people who put pressure on new mothers to lose their "post-baby" weight. "I've been really focused on not being 'back' to anything, but being the best version of myself right now," Washington told Self. "My body is the site of a miracle now. I don't want to be pre-miracle."
Congratulations, Kerry Washington!