Brandy Is Back With New Song "Beggin & Pleadin" — This Is What It Means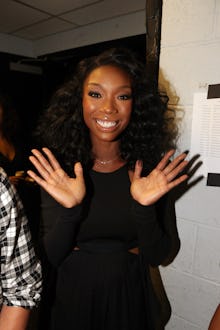 Johnny Nunez/Getty Images
Brandy, yes, the '90s R&B sensation and Ray J's big sister, is begging and pleading for a comeback — and for an ex to stop tormenting her — with the new powerhouse breakup jam "Beggin & Pleadin." This may mark the proper Brandy comeback loyal fans have been waiting for. 
The song, produced by Pop & Oak, pleads with an ex after what sounds like a tumultuous relationship. "Told you walk out that door and you can keep your last name," Brandy, real name Brandy Norwood, belts in the song's bridge. On Facebook, she said the lyrics are based on a true story about forgiving herself and flying solo. 
"As I grew through the subject matter of this song, I realized that I needed ME to forgive me for not believing what I felt!!!" she wrote. "So #deuces #solo #BrandyEverAfter." You write your own fairytale ending, girl.
The song is available to stream for free on SoundCloud.
Source: Soundcloud
Fans rejoiced on Brandy's Facebook post. In a lengthy comment, fan Kanarr Larique wrote that Brandy brought her to church, that he's been waiting for this comeback and has been a fan since '93-'94. 
OMG I swear you read my post begging for a clip of something new and you bring us to church. Brandy you are BACK and I have been waiting for this comeback and now its here I'm so happy for you. I'm going to play this post over and over until I go to sleep. Thanks for not letting us down. We will never leave you side. Fan since 93/94. Keep inspiring me to be all I can be love you Brandy
Brandy's new breakup jam came with the premiere Tuesday of her new show Zoe Ever After on BET, a sitcom in which she stars as a single mom and recent divorcee who owns a makeup company.