This Is the Top Porn Search Term of 2015 — and Here's What It Can Tell Us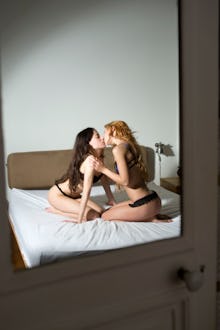 Lesbian.
Popular porn site Pornhub has revealed its year-end review, which includes statistics on all its viewers habits. That includes search terms, and "lesbian" was the site's most-searched-for term in 2015 — across all locations, ages, genders and sexual orientations. 
While girl-on-girl smut has long been known to have widespread appeal, this year it jumped to the No. 1 spot for the first time in Pornhub's data-tracking history. (It was at No. 2 last year, up seven whole points from the year before that.)
So how did a genre of porn that should ostensibly only appeal to a very small percentage of the population (lesbian porn is theoretically a form of "gay porn") become so popular that it usurped top honors from terms like "teen" and "step mom"? Let's discuss.
Straight people are into it. It's a well-documented trope by now that plenty of straight men are turned on by lesbian porn, likely because it allows them to watch a sex act unfold on camera without the inconvenience of a (gasp!) dick getting in the way of things.
In a Reddit discussion last year on why men like lesbian porn, straight male users wrote things like "twice as much of what you want, none of what you don't," and "four boobs are better than two." Such phrases will sound familiar to just about anyone who's ever discussed pornography with a petrified-of-being-perceived-as-gay teenage boy.
But what's more interesting is that the straight viewership of lesbian porn is predominantly made up of women. When Pornhub split their year-end results by gender, they found that "lesbian" was still No. 1 among women but was actually No. 7 amongst men (men's top term was "step mom," which is really a subject for a whole other discussion), indicating that the preferences of women are the driving force behind the term's popularity.
That means that more women are watching porn on Pornhub generally — Pornhub's year-end insights found that 24% of its site visitors were female, up from 23% in 2014.
But it also suggests that many of the women watching "lesbian porn" aren't actually gay. Straight women's interest in "lesbian porn" — which, more accurately, is simply girl-on-girl — has become a hotly discussed topic over the past year, based in part on findings like Pornhub's. Further contributing to the popularity of lesbian porn are the search habits of millennials. In a collaboration with Pornhub last July, Mic reported that "lesbian" already sat atop the rankings of terms searched for by users ages 18-34. Pornhub's 2015 year-end data confirms this, noting that the term isn't ranked as highly among the site's older visitors.
In one Cosmopolitan article from 2015, Rachel Hills profiled a 27-year-old straight woman named Jenny whose porn preferences were strictly not-dickly.
"She likes the women it features — 'there's something very approachable about them,' she notes — and she likes that they seem to try to please each other, rather than one partner just 'drilling away' the way that some men in hetero porn films do," Hills wrote of Jenny. "Her favorite clips are the ones that feature scissoring, although she doesn't like the fake-looking ones where the women are 'on opposite sides of the bed with their legs up,' she tells me. 'I like it when they're on top of each other, when I can imagine the friction between them.'"
Jenny's comments echo what others have written about why lesbian porn is so popular, which is that straight porn is often so focused on the male orgasm that female pleasure can often seem to be an afterthought. Others have said that straight women love to watch lesbian porn because it allows them to "imagine what it might be like to be with another woman, even if they consider themselves on the strictly heterosexual end of the Kinsey scale."
Women's sexual fluidity is another increasingly discussed topic this year. For example, a widely covered (and critiqued) study from the University of Essex claimed that "when it comes to what turns them on, the [majority of women] are either bisexual or gay, but never straight," because they were aroused by both sexes.  
Of course, porn data doesn't exactly tell the whole story. It's worth noting that this data is limited to Pornhub's audience, and not everyone in the world is getting off only at Pornhub dot com. In fact, 2015 saw a number of interesting revelations about how people were trying out different porn-viewing methods, from Tumblr to virtual reality devices to Twitter, all of which are unrepresented in this data.
It's also worth noting that the people out there who aren't quite as jazzed about lesbian porn are, incidentally, actual lesbians. A number of them have criticized mainstream lesbian porn for being unrealistic and unappealing, and still catering to the male gaze, regardless of the absence of a male orgasm.
"The lesbians I know have largely turned their backs on girl-on-girl action, seeking instead to scratch that most personal of itches with just about anything else," wrote Vanessa Vitiello Urquhart for Slate in 2014. After talking to a number of her lesbian friends, Urquhart found that "they had some pretty scathing things to say about the unrealistic nature of the lesbian-themed offerings. 'Women with extra long fingernails and fried blonde hair looking bored while idly thumbing one another's [privates],' was how one respondent put it, summing up the prevailing opinion."
Regardless of any shortcomings, this new Pornhub data does tell us quite a bit about the state of peoples' porn habits going into 2016. And for the female porn viewership of the world, it seems penises are altogether on their way to becoming obsolete. So, uh, RIP to the D.