People's Choice Awards 2016 Live Stream: How to Watch Awards Show Online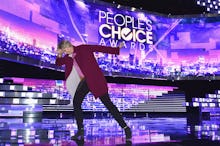 Mike Windle/Getty Images
Attention, everyone who got out the vote for their favorites in 2015 TV and cinema: The 42nd annual People's Choice Awards take place Wednesday night, and will be broadcast at 9 p.m. EST on CBS. New and democratically elected fan favorites will be crowned in real time; guest appearances will include Lea Michele of Scream Queens, Jon Stamos of this picture, Britney Spears, Game of Throne's Natalie Dormer, Homeland's Claire Danes and many, many more. With a slew of illustrious nominees, esteemed funny lady Jane Lynch as host and talk show host/comedian Ellen DeGeneres as the evening's humanitarian honoree, the 2016 ceremony is one People's Choice speculates could be the best one yet. 
"We have an opening number," Lynch revealed, speaking about what sets this year's awards show apart from the rest. "The first time in six years at the People's Choice Awards, we have a live opening number. And I have some kick-butt dancers who are really doing all the work ... but I am breaking out some signature moves. Anyone who knows me will recognize them; I have three, and they are featured prominently in the opening number."
Opening number?! Signature moves?! Comedy?! All the makings of a must-see evening. Don't have a TV? No problem. The show will stream live on CBS All Access, which is subscription only; devoted viewers, however, can test-drive the CBS streaming service for one week, free of charge. Because really, who could say no to this?