Steely Dan Founder Donald Fagen Arrested for Allegedly Assaulting His Wife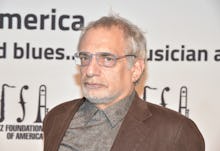 On Tuesday, Donald Fagen, the founder of the classic rock group Steely Dan, was arrested after allegedly assaulting his wife, Libby Titus, in their Manhattan apartment. 
The couple reportedly got into a verbal altercation, a New York City Police Department representative told Rolling Stone. "He grabbed her by the arm and pushed her," the representative said. "She fell, bruising her arm." 
A criminal complaint obtained by the New York Post provides more detail about the incident. The complaint alleges that Fagen pushed Titus onto a marble window frame "by placing his hands on her arms and rapidly extending his arms in the direction of said frame, causing her to fall onto the frame and suffer bruising and swelling to her right arm, as well as substantial pain," according to the Post.
Titus will reportedly not press charges, but plans on filing for divorce.
Fagen was released without bail Tuesday after an arraignment for one count each of misdemeanor assault and harassment. Titus has been issued an order of protection, and Fagen was told to keep away from Titus.
"I don't feel good," Titus told the Post via phone. "I'm very tired and I'm divorcing my husband."
The couple married in 1993, right around the time Fagen released his second solo album, Kamikiriad, for which Titus co-wrote the song "Florida Room." The couple met at Bard College in the mid-1960s, right around the time Fagen met guitarist Walter Decker, with whom he would later form Steely Dan. Previously Titus had been married to the Band's Levon Helm. 
With his jazzy classic rock group, Fagen recorded nine albums, their biggest critical and commercial success being 1977's Aja, which spawned the singles "Peg," "Deacon Blues" and "Josie." The band recently made headlines for headlining Coachella in 2015, a move which spawned a wave of thinkpieces hailing the return of dad rock. 
As of yet, Fagen's lawyer and publicist have refused to comment on the charges.