'American Idol' Season 15 Judges: Latest on Simon, Randy and Paula's Return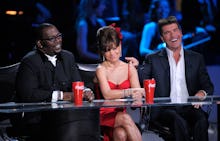 Mark J. Terrill/AP
American Idol, the show that launched the reality TV singing competition genre when it premiered in 2002, will air its 15th and final season this year — and it's sure to have some surprises. 
The big question is whether the show's original judges — Randy Jackson, Simon Cowell and Paula Abdul — will return for the final season, which begins Wednesday at 8 p.m. Eastern on Fox.
Luckily there's good news for nostalgic Idol fans. Host Ryan Seacrest told Access Hollywood in November that the original trio of judges would be returning at some point over the course of the final season. "I've spoken to all of them recently and we as a team have talked to them about coming back to do something for the final season," Seacrest said. "They are going to do it, it's just a matter of figuring what to do with them."
Jackson, Cowell and Abdul served as the judging panel for eight seasons. Abdul left after season eight, Cowell departed the show after season nine and Jackson left after season 12, although he returned as a "mentor" for the contestants in season 13. 
The final season may also feature performances from past Idol winners, including Kelly Clarkson, Ruben Studdard, Carrie Underwood and Phillip Phillips.