Here's How the Republican Candidates Responded to North Korea's Alleged Nuclear Test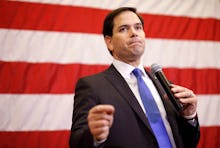 Patrick Semansky/AP
After North Korea announced on Tuesday via the country's state-run media that it had successfully tested a hydrogen bomb, the pressure was on U.S. politicians to come up with their responses to the news. Many are skeptical of the veracity of North Korea's claims — but that didn't stop the GOP candidates from responding to the news with strong criticisms of the Obama administration
"If this test is confirmed, it will be just the latest example of the failed Obama-Clinton foreign policy," Senator Marco Rubio announced in a statement on Tuesday, according to CNN. "I have been warning throughout this campaign that North Korea is run by a lunatic who has been expanding his nuclear arsenal while President Obama has stood idly by," Rubio said.
Read more:
Republican frontrunner and real estate mogul Donald Trump also weighed in, speaking about North Korea's new claims during an appearance on Fox and Friends, reportedly suggesting that the U.S. should put pressure on China to respond to North Korea's nuclear activity. "China should solve that problem. And if they don't solve the problem, we should make trade very difficult for China," Trump said, adding, "We get almost nothing for what we do. We defend the world. We defend so many countries. We get nothing."
Former Florida governor Jeb Bush took to Twitter for his response, saying "North Korean nuke test ... shows danger of continuing feckless Obama/Clinton foreign policy."
New Jersey governor Chris Christie, also speaking on Fox and Friends, called Obama's previous responses to North Korean nuclear activity "weak" according to the Guardian and said, "Three out of the four nuclear detonations that the North Koreans have done have happened under Barack Obama and Hillary Clinton's watch ... They have just not acted strongly at all around the world."
Ohio Gov. John Kasich released a statement that echoed his rivals' condemnation of President Obama, stating "The Obama administration has been asleep at the switch on North Korea, and that inaction has allowed serious and destabilizing actions like this to occur," Reuters reported. 
So far, few of the Republican candidates have outlined specific foreign policy responses to a North Korea that is potentially armed with nuclear weapons.