Kid Cudi Just Shared an Acoustic Cut of His Recent Single "Confused"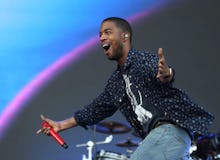 Kid Cudi's music has never been easy to classify. As soon as one starts to become confident enough to pin him down as a rapper, he'll swerve into R&B, rock or, most recently, alternative. Back in December, he was very clear that his latest album, Speedin' Bullet 2 Heaven, was "alternative" and should be listened to as such. It's "not hip-hop/rap like someone forcefully labeled it," as he wrote in a tweet, referring to unnamed streaming and download platforms that catalogued the album that way.
His latest release, an acoustic version of "Confused" posted to SoundCloud on Tuesday, drives home this new direction in a big way. Using similar chords to Nirvana's "Polly," the song was recorded in a single take with Cudi accompanying himself on guitar, judging by the song's artwork and SoundCloud title. 
Source: Soundcloud
Cudi dedicated the track to his fans, describing it as a "lil something for being so sweet to me lately" in a tweet.  It's the latest in a line of gifts he's been offering to fans who've stuck with him through his constant creative explorations. 
On Sunday, Cudi paid for a group of fans with "good heart[s] and good vibes" to accompany him to see Star Wars VII: The Force Awakens, a move which — judging by the Twitter responses — fans loved.
Fans had a similarly ecstatic reactions to the new track, as vastly different as it is from the music Kid Cudi built his name on back in 2008.