'American Crime': Full Preview, Viewing Info and How to Watch Online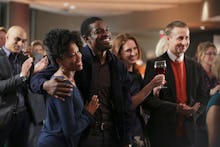 Ryan Green/Getty Images
American Crime, the hit anthology television series, returns Wednesday at 10 p.m. Eastern on ABC. Fans can catch the season two premiere on ABC Go.
The new season, which will move from season one's California setting to the Midwest, follows the life of Taylor Blaine, a high school student whose life changes when images of him are posted online after a party. Once Taylor, played by Falling Skies' Connor Jessup, accuses two players on the high school basketball team of sexual assault, he is thrust into the unwanted spotlight.
The accusation rattles the high school to the core, as Leslie Graham, played by Felicity Huffman, must answer questions while preserving the reputation of the school as headmistress. 
Huffman is joined by Timothy Hutton, who plays the basketball team's head coach, Dan Sullivan; Regina King, who plays Terri LaCroix, the protective mother of bright student-athlete Kevin Lacroix (Trevor Jackson), who may have been involved in the incident.
Lives become entangled forever as the characters must come to grips with the real world issues of sexual assault, gender politics, sexual orientation and racial identity. Watch the extended trailer here: