'Star Wars: The Force Awakens' Is Officially the U.S.'s Biggest Movie of All Time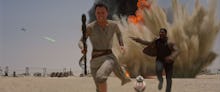 Star Wars: The Force Awakens is boldly going where no film has gone before — in the United States, that is.
Wednesday, The Force Awakens will make enough money at the box office to surpass Avatar's $760.5 million record as the No. 1 film ever released domestically. The 2009 sci-fi epic directed by James Cameron had previously beaten Cameron's own Titanic for the top spot, and remained unchallenged until now.
Unlike Avatar, The Force Awakens accomplished this feat within just 20 days of release. It took Avatar 238 days to hit its final number. Yes, it took The Force Awakens just 8.4% of the time it took Avatar to reach its multimillion dollar mark. Talk about using the force. Yoda would be so proud of director J.J. Abrams.
It's worth noting, however, that this record carries two major caveats. One is that, adjusted for inflation, The Force Awakens will just barely crack the top 20 all-time top-grossing movies after today. It'll have to make a billion more dollars just in the U.S. to hit the No. 1 spot (currently occupied by Gone With the Wind, with the original Star Wars in the No. 2 slot). That is a nearly impossible task — The Force Awakens will likely settle for top 15.
The second caveat is that Avatar still reigns supreme on the all-time global box office chart. Titanic and fellow 2015 film Jurassic World also remain ahead of The Force Awakens there, though the space epic may blast past at least the latter film when it opens in China, the world's second largest movie market.
Despite the asterisks, this is a huge win for Star Wars and a sign that a franchise can go away for a decade and return stronger than ever. The real test will be whether all the spinoffs and sequels ahead can possibly match the success of The Force Awakens. With Disney on their side, however, the universe is the limit.