Here's Everywhere in the World You Can Stream Netflix in One Easy Map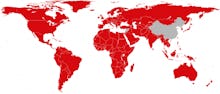 Netflix
Netflix expanded its streaming services on Wednesday to reach 130 countries, a bump from the 60 countries where it was previously available, according to Reuters. The move has made "Netflix-and-chill" possible in almost every corner of the world now, with one notable exception — China.
Due to "U.S. government restrictions on American companies," Netflix is not expanding into China, Crimea or North Korea, Reuters reported. That means the more than 1.3 billion people who live in China still won't be able to binge watch shows like Making a Murderer or Jessica Jones or every single season of Gilmore Girls.
Read more:
Elsewhere on the globe, though, people are celebrating the arrival of the streaming website, now available everywhere from Afghanistan to Paraguay to Tonga. A full list of countries in which Netflix is now streamable is available on the company's website.
The social media world is, obviously, celebrating this big change with the hashtag #NetflixEverywhere: