Here's Why Young People Like Bernie Sanders, According to Bernie Sanders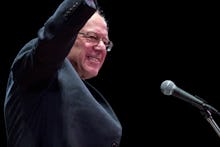 Mary Altaffer/AP
From the "Men Who Burn" pinup calendar to a dedicated song, it's no surprise that a large portion of the young population of America loves to "Feel the Bern." On Tuesday, Bernie Sanders went on Comedy Central's Nightly Show with Larry Wilmore to share his two theories on why the young liberal crowd loves him, Buzzfeed reported. 
Asking himself why, Sanders attributed this support to the uneasy American economy and how idealistic the younger generation is. 
Read more:
"A lot of young people are asking themselves how it happens that in America today with all this new technology and productivity, how does it happen that everything being equal, if we don't turn it around they're going to have a lower standing of living than their parents?" Sanders said about how young people view the economy and want change, according to Buzzfeed. 
According to NPR, young people are more in tune with the socialist idea of economic equality. This idea is heavily politically associated with Sanders, who has condemned Wall Street and attempted to increase minimum wage. 
He went on to say that he's "deeply moved" by how the younger generation also wants to fight issues like racism and climate change. Sanders' message and political aura are strongly driven by this kind of hope, the Washington Post reported in October. 
In the most recent Quinnipiac University Poll from Dec. 22, Sanders sits right after Clinton and above Trump. The pressure is on for this demographic of young voters to pull him through in the homestretch, especially with primary voting right around the corner.