'Dance Moms' Season 6 Episode 1 Recap: Bubbles and Brynn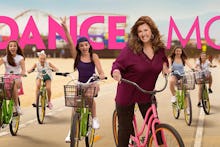 Lifetime
Dance instructor Abby Lee Miller and her team of preteen girls returned Tuesday night for the season six premiere of the hit Lifetime reality show Dance Moms. The series, which takes place primarily at the Abby Lee Dance Company studios, promises to be drama-filled. The season premiere, "New Season, New Rules," did not disappoint on its reputation for melodrama and histrionics.
The episode kicks off with the return of season five guest star Brynn Rumfallo, who may be the replacement for Maddie Ziegler, who did not compete in Tuesday's premiere. Maddie is currently embarking on her film career in New York, much to the dismay of Jojo Siwa's mother. Brynn's appearance is almost immediately contentious, as Brynn is granted a solo dance opportunity.
Abby bans the girls from engaging in any extracurricular activities outside of dance, a restriction met with resistance from the mothers.
The Abby Lee Dance Company travels to the Sheer Talent Special Edition Competition in Los Angeles. Abby's dance team faces rival Jeanette Cota and the Broadway Dance Academy, again. The group dance, "The Girl in the Plastic Bubble," features Jojo inside the bubble but she gets stuck and nearly suffocates when the zipper is stuck. JoJo would later receive platinum for her jazz solo "Own It."
The showdown between Abby and Jeanette's dance companies comes down to Brynn and Gavin Morales, the new recruit for Broadway Dance Academy. Despite a strong performance from Gavin, he places second to Brynn.
The Broadway Dance Academy placed second to the Abby Lee Dance Company with their group routine, "The Waiting Room" — which is the same name as the group dance the Abby Lee Dance company performed in the season five finale.
Perhaps overwhelmed by her company's success, Abby broke down in tears at the end of the episode.
Dance Moms airs Tuesdays on Lifetime at 9 p.m. Eastern.