Juanita Broaddrick Speaks Out, Resurrecting Rape Allegations Against Bill Clinton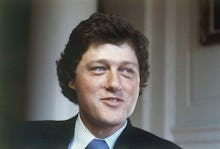 Juanita Broaddrick, a retired Arkansas nurse who alleged in 1999 that Bill Clinton raped her while running for governor of Arkansas in 1978, is again speaking out publicly about her alleged assault. Her reemergence could resurrect the controversy amid renewed scrutiny of Clinton's sexual behavior, following Democratic presidential frontrunner Hillary Clinton's call to believe alleged victims of sexual assault.
In a series of tweets in recent days, an account purportedly belonging to Broaddrick has assailed Hillary Clinton as an "enabler" of her husband's accused misdeeds, applauded a New Hampshire state representative who heckled Clinton on the issue at a recent campaign rally and wrote that the pain from the alleged assault "never goes away." 
Reached by phone at her home in Arkansas on Wednesday, Broaddrick confirmed to Mic that the Twitter account was hers.
The background: The alleged encounter between Clinton and Broaddrick took place in 1978, during Clinton's tenure as Arkansas attorney general. Vox's Dylan Matthews provides a primer on Broaddrick's allegations:
In 1978, Broaddrick was volunteering for Clinton's gubernatorial campaign, and claims she met him when he visited his campaign office in her hometown of Van Buren, Arkansas, that April. She says he then invited her to visit his office in Little Rock, which Broaddrick agreed to do a week later, when she was in the state capitol for a conference of nursing home administrators. Once she was at a hotel in Little Rock, she claims Clinton told her that he wasn't going to the campaign headquarters and offered to meet her in her hotel lobby coffee shop instead. Once he arrived, she says he called her room and suggested that they have coffee there, since the lobby had too many reporters. Broaddrick says she agreed. 
Broaddrick says Clinton then initiated intimate contact, forcing himself on her after Broaddrick resisted and leaving her with a bruised lip.
Broaddrick remained silent on the alleged encounter for years, initially refusing to cooperate with lawyers for Paula Jones, a woman who accused Clinton of sexual harassment, when they approached her in 1994. But Broaddrick told Mic that her son, a lawyer, convinced her to share her story.
"He said, 'Mom, you can't lie anymore because this is a federal thing now,'" Broaddrick said, referring to the suit Jones filed against Clinton, which ultimately led to his 1998 impeachment by the House of Representatives.
Hillary Clinton's role: Why should Hillary Clinton have to answer for an alleged assault in which nobody claims she was present? In Broaddrick's telling, Clinton has helped her husband cover up his misconduct, going so far, Broaddrick told Mic, as to thank her at a party after the alleged assault "for all I was doing for them."
"Hillary was asking and someone pointed right toward me," Broaddrick said of the party, a campaign event in 1978. "She immediately came over to me and she said how grateful she was for all I was doing for them."
Clinton made no explicit mention of the alleged rape, Broaddrick said, "She just looked me in the eyes and said that — it was the strangest thing in the world."
Four decades after the alleged incident, Clinton tweeted, "Every survivor of sexual assault deserves to be heard, believed, and supported." Confronted in December with the cases of women who've accused her husband of assault, Clinton said at a New Hampshire event that accusers should be taken at their word "until they are disbelieved based on evidence."
No physical evidence ties Bill Clinton to the alleged rape, Clinton defenders have noted.
Asked why she's reviving her allegations now, Broaddrick pointed to Hillary Clinton's statements on sexual assault. 
"It still hurts. It's still a very hurtful thing that they continue on in the pattern of denial to people of what this man is," Broaddrick told Mic. Of Hillary Clinton, Broaddrick said, "I think she's evil. She's doing all of this for political gain. She's absolutely enabled and covered up for him."
Going forward: Broaddrick's resurfacing comes as GOP frontrunner Donald Trump has seized on Bill Clinton's sexual behavior to push back against Hillary Clinton's claims that Trump disrespects women. Trump has called Bill Clinton "one of the great women abusers of all time," charging that Hillary Clinton was his "enabler."
(Trump's ex-wife, Ivana Trump, once accused him of marital rape in a deposition, later walking back that allegation.)
Broaddrick and Trump are linked by more than a shared view of Bill Clinton's behavior: Last month, she tweeted that she's a supporter on his "bandwagon":
Asked whether she was likely to assume a more prominent role in speaking out as the 2016 campaign heats up, and as Trump revives accusations that the former president has exhibited a pattern of abusive behavior toward women, Broaddrick told Mic that she "probably will," although she hasn't yet decided what form her more public role will take.
The Clinton campaign did not immediately respond to Mic's request for comment.