Marc Jacobs Casts Trans Director Lana Wachowski for Ads Celebrating "Beauty of Equality"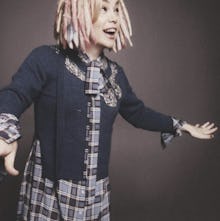 On Wednesday, Marc Jacobs made a special announcement on his Instagram: "It is with an overwhelmingly full heart that I share this first portrait of our Spring/Summer 2016 ad campaign. Lana Wachowski."
Wachowski's portrait shows her with her signature candy-colored hair, smiling and looking into the distance. It's a beautiful photo, to be sure, but it's the story behind the photo and the woman in it that make it all the more so.
Wachowski is one the few openly transgender filmmakers in Hollywood, known for co-directing with her brother blockbusters like The Matrix and Cloud Atlas. She came to the fore even more in 2012, when she accepted the Visibility Award at the Human Rights Campaign's annual gala dinner with a heartfelt, moving speech in which she came out as transgender.
Wachowski's words so moved Jacobs that he watched the video of the speech nine times, according to Vanity Fair, and wrote to her. 
"She expressed thoughts and ideas that have filled my head and heart always but had never been so eloquently captured in language that was so tangible, intelligent, poignant and full of possibility," Jacobs wrote in a lengthy caption on his latest Instagram. "I found myself referencing Lana's words in my daily life and sharing her speech with close friends."
It wasn't until New York Fashion Week this past year that the two finally met, with Wachowski wearing one of the designer's dresses, said Vanity Fair.
Wachowski seems a fitting choice for Jacobs' new campaign, which was shot and styled by David Sims and Katie Grand, respectively. According to Jacobs' Instagram, the rest of the campaign — Wachowski's photo is just the first — will be a "personal diary of people who have and continue to inspire me and open my mind to different ways of seeing and thinking." The people in the campaign, he said, "embody and celebrate the spirit and beauty of equality."
Jacobs is the latest designer to fill his ads with atypical models, choosing inspiring influencers and historical icons instead of fashionable PYTs — think Joan Didion for Celine and Gloria Steinem for Kate Spade. Wachowski is undoubtedly less famous than those feminist icons, but a change-maker nonetheless, particularly in matters of transgender issues.
"For transgender people, that public and private identity is more complicated by the fact that if they are not seen, in some ways they have no identity," she told the Hollywood Reporter in 2012, shortly after her speech. "On the other hand, if they are seen, that in some ways can actually be life-threatening, like the case of [murdered transgender teen] Gwe Araujo."
Wachowski has since become a resource for actors and filmmakers on how to respectfully portray trans characters in film. When Eddie Redmayne was preparing for his role in the Danish Girl, he asked Wachowski for pointers, according to People, and her name is include in a list of thank you's at the end of the film.
Now she's getting another run in the spotlight thanks to Jacobs. The campaign is set to run in the February issue of Vogue, according to Women's Wear Daily.