Texas Trooper Who Stopped Sandra Bland Indicted for Perjury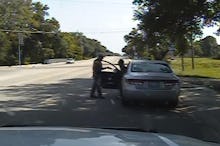 The Texas state trooper who pulled over and arrested Sandra Bland in July has been indicted for perjury by a grand jury, according to the Associated Press. Bland, 28, was found dead in her jail cell three days later. Trooper Brian Encinia "is accused of lying about how he removed Bland from her vehicle," the AP reported. 
Sandra Bland's mysterious death in her jail cell has been closely followed on social media. In July after her death, the hashtag #WhatHappenedtoSandraBland was trending among those who demanded answers as to how Bland's traffic violation had escalated so dramatically. Dashcam footage of Bland's arrest widely circulated on Twitter appears to show Encinia brandishing a stun gun and yelling at Bland.
In December a grand jury voted not to indict anyone for Bland's death. Wednesday's news of Encinia's indictment for perjury indicates that there is still more to learn about Bland's death — and offers some slight hope to those who have been demanding justice that perhaps someone will be held accountable.