Donald Trump 2016: Latest Polls, News and Updates on Presidential Campaign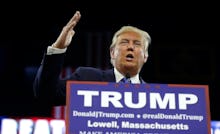 Charles Krupa/AP
Real estate mogul Donald Trump has continued to hold a commanding lead over his fellow GOP candidates for the party's nomination. However, he's trailing considerably when hypothetically paired against the leading Democratic contenders former Secretary of State Hillary Clinton and Vermont Sen. Bernie Sanders, according to the latest Quinnipiac University Poll released Dec. 22.
Trump's stiffest competition for the GOP bid was Texas Sen. Ted Cruz, who has risen to second in the Republican race with 24% of the vote to Trump's 28%, according to the poll. In the previous national poll released by Quinnipiac Dec. 2, Cruz had 16% of the GOP pack, tied for third with Dr. Ben Carson and one point behind Florida Sen. Marco Rubio.
However, while Trump still leads in the GOP race, half of American voters admitted in the most recent poll that they would be "embarrassed" to have Trump president. As a result, he trails when matched with the leading Democratic nominees — Clinton and Sanders — by 7% and 13%, respectively. "Half of American voters say they'd be embarrassed to have Donald Trump as their Commander in Chief and most Americans think he doesn't have a good chance in November, but there he is still at the top of the Republican heap," Tim Malloy, assistant director of the Quinnipiac University Poll, said in a statement.
Trump backs Obama's emotions, not his gun control proposals: Though he does not agree with President Barack Obama's stance on gun control, Trump did not mock the president — like other GOP candidates — for shedding tears during his speech on Tuesday. "Well, I actually think he was sincere," Trump said in a phone interview with Fox & Friends on Wednesday. "I'll probably go down about five points in the polls by saying that, but I think he was sincere."
Instead, the GOP frontrunner reiterated that he does not agree with the gun control proposals the president has set out, saying he cannot "tamper with the Second Amendment."
Trump pushes immigration agenda, by any means necessary: Trump released his first television ad on Monday, highlighting his views on a temporary Muslim ban in the U.S., building a wall around the Mexico border and illegal immigration.
However, according to fact-checkers at Politifact, Trump's commercial deceptively used a video of migrants at the Moroccan border, rather than the Mexican border, when referencing immigration. The footage, according to the report, is from a 2014 Italian television segment on migrants.
In response to the piece, Trump's campaign released a statement claiming the Moroccan footage was used intentionally and that "biased mainstream media doesn't understand, but Americans who want to protect their jobs and their families do."