China's Latest Shoe Trend Is Wearing Slippers Outside the House (and We're Jealous)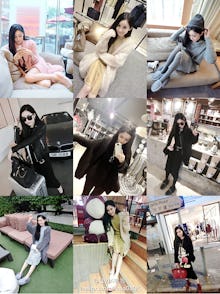 Shanghai, China — We live in the era of conspicuous comfort, where unapologetically ugly shoes and sweatpants rule our wardrobes. Still, few of us would wear our fuzzy house slippers outside — right?
Perhaps not for long. In China today, super cute fluffy slippers adorn the feet of well-dressed women everywhere, proving that the world's most populous nation might have a thing or two to teach Americans about the art of dressing down.
There's an entire section of China's mammoth shopping site Taobao devoted to selling the shoes, many with fur inside and out, as well as cute bows and animal ears. Notably, they're not for indoor wear only: A Shanghai shopkeeper told Mic her fuzzy flats were not only very comfortable, but would keep one's feet from getting wet in the rain, and that wearers definitely appreciate their practicality in winter.
An online seller boasted that their fluffy pink shoes decorated with dogs' faces would be perfect for walking around, driving and even for the office. And Weibo presents plenty of photos of girls wearing their slippers out:
In China, comfortable leisurewear has gone to the enviable next level.
From Paris catwalks directly to Shanghai sidewalks: While furry slippers may not yet reign supreme on the streets of Milan, Paris or New York, it is precisely from those cities that this Chinese trend took its inspiration.
Chinese fashion media cites the creeping presence of furry shoes on the runway, from Celine back in 2012 to Maison Margiela's super fluffy floor sweepers for Fall 2015, as the inspiration for the slipper shoe. Then, of course, there are Gucci's ubiquitous fur loafers, worn by every member of the fashion pack, from Alexa Chung to Marc Jacobs, and declared Vogue's "It Shoe" for fall.
Chinese Cosmopolitan noted in October that "the fashion crowd loves wearing fluffy shoes," highlighting Gucci fans, including Sienna Miller and Tamu McPherson, as spearheading the trend. Chinese website Sohu Fashion promised in August, "Furry shoes aren't just comfortable, they're also guaranteed to turn lots of heads on the street, because they look both stylish and super cute." The shocked sentiment was echoed in September when Sina Fashion proclaimed September, "Shut up! Furry old lady slippers are actually in vogue!" 
Both cited runway examples.
Certain influencers in the United States and Europe have taken these runway trends to heart, like London blogger Peony Lim wearing furry slides back in 2014, Rihanna sporting long-haired Simone Rocha slippers last March and stylist Viviana Volpicella wearing fuzzy flats to the Spring/Summer 2015 shows in Milan and showing off a different pair on Instagram. 
But furry slippers haven't really gone mainstream in the Western Hemisphere as they have in China. Many of the slippers for sale on Taobao mirror Gucci's shoe, sporting horse bit details and more fluff than Gucci designer Alessandro Michele could ever have imagined.
"It feels like walking on snow, they're so velvety and soft. I really like them," reported one satisfied customer after purchasing fluffy shoes complete with rabbit ears.
"It's so freezing I'm bundled up like a dumpling and definitely still wearing my [slipper] shoes," wrote one Weibo user.
Some sellers on Taobao list their wares as European in style, while others point to South Korean fashion as the source. But as a mainstream trend, furry slippers are uniquely Chinese.
Why China? One reason China has taken the indoor shoe outside might have to do with the cult of cute. Shoppers in China are crazy for anything mengmengda, or "super cute," which goes some way to explaining the summer craze for beansprouts as hair accessories.
"These shoes are cute and girls like to be cute," Peipei, 25, from Shanghai told Mic, saying that she personally didn't like the trend.
Lots of Taobao sellers describe their slipper shoes as either mengmengda or ke'ai ("adorable"). And one Weibo user showing off her slippers described them as mengmengda, only complaining that her ankles were a little chilly.
Shanghai-based designer Denise Huang of Suzhou Cobblers told Mic that trends spread quickly in China because of the affordability of fashion, particularly from cut-price online outlets. But fashions also tend to be short-lived.
"Individual style is still not the mainstream [in China]," she said. "It's more about who to follow. If you go to a shop, the sales lady will usually say: 'You should buy this one because it's popular now.'"
It helps when you can then selfie it. The country is also selfie-crazy — Chinese teens have taken self-portraits to the next level by taking selfies with their feet — and items that stand out on photos are good social media fodder in China as in the rest of the world.
"So beautiful! I love them to death. As soon as I got them, I put them on to take a photo. So soft and comfy," gushed one Taobao shopper after buying a pair of furry slides from the site.
Seem crazy? There's no reason to think that slipper won't become popular in the selfie-centered, novelty-seeking fashion markets of the west. A few years ago wearing orthopedic-looking sneakers or sweatpants to go out might have seemed laughable, but the spread of athleisure – wearing sporty outfits with no intention of breaking a sweat – means comfortable clothes once restricted to the house or the gym are now acceptable to wear on the street.
And as we continue to wave goodbye to the long, painful reign of high heels, doesn't "walking on snow" sound pretty appealing?