Bill Cosby Won't Face Any Criminal Charges for LA Sexual Assault Cases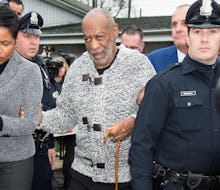 The Los Angeles County District Attorney's Office announced Wednesday that Bill Cosby will not be charged in the two cases being investigated by the office. The announcement comes a week after Cosby was brought up on felony assault charges in Pennsylvania for a 2004 incident.
In Pennsylvania, the 12-year statute of limitations allowed for Cosby to be charged almost exactly 12 years later. But in California, the statute for non-aggravated rape (rape without the use of a weapon) is six years. Prosecutors reviewing the case believe the neither Jane Doe 1 nor Jane Doe 2's allegations transpired during that window of time, according to CNN.
Jane Doe 2, revealed by her lawyer to be model Chloe Goins, alleged Cosby drugged and assaulted her in the Playboy Mansion in August 2008. Jane Doe 1 remains anonymous, but her attorney, Gloria Allred, said her client is "very disappointed" by the decision not to charge Cosby, who she says raped her client in 1965 when the client was 17 years old. 
"It is very difficult for a person who alleges that she is a victim to understand that there are arbitrary time periods set by law and that if allegations are not reported within that time period that it will be too late for a prosecutor to pursue them," Allred told CNN.
But the battle isn't over. Cosby's preliminary hearing in Pennsylvania is on Jan. 14. 
Get the five stories that will challenge you to rethink the world by signing up for MicCheck Daily.