A Truck Bomb at a Libyan Police Academy Kills More Than 60 — And ISIS Might Be Responsible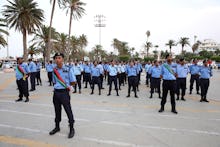 Al-Jahfal, a police training academy in Zliten, Libya, was the target of a truck bomb Thursday morning, which claimed the lives of more than 60 people and injured 127.
The explosives were reportedly placed in a water truck and could be heard in Misrata, a city 40 miles away, according to the BBC. It is one of the biggest attacks to rock the country in recent years.
The local hospital was inundated with patients; other medical centers had to start accepting victims and blood shortages led to a public appeal for donations.
Zliten's mayor, Miftah Lahmadi, said the bomb went off as recruits were assembling at the academy at the start of the day, the Guardian reports, when the explosive-laden truck charged into the main gate, witnesses told Al Jazeera.
Since the ouster of Muammar Gaddafi in 2011, the country has become a political vacuum and breeding ground for extremist groups that has swiftly descended into chaos amidst an ongoing power struggle. 
According to the Financial Times, ISIS has had a growing influence in the war torn country, and while the terrorist network has not formally claimed responsibility for the attack, its affiliated media outlet, Aamaq, has said ISIS was at the helm of the "martyrdom operation."
"The big question now is whether it will make the clock tick faster for any Western intervention," Mattia Toaldo, a European Council on Foreign Relations Libya specialists, based in London, told Bloomberg Business. "They should be careful to craft a response that doesn't destroy the political process."
ISIS has already created a stronghold in the Libyan city of Sirte, from which it has been attacking oilfields, according to Reuters. Oil is a huge source of income for the official, albeit weak, government as the country has one of the largest crude oil reserves in the world.