People's Choice Awards 2016: Recap of Winners and the Night's Biggest Moments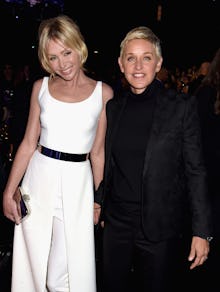 Kevin Mazur/Getty Images
Wednesday night kicked off the People's Choice Awards show, which CBS broadcasted live at 9 p.m. EST. As Mic previously reported, expectations were flying high for the 42nd annual event, and viewers and some nominees were not disappointed. The people have spoken and here are some of this year's biggest winners (People's Choice Awards website has a full list of winners). 
Though victory is in the eye of the beholder, according to a blog post from the event's organizers, American comedian and television host Ellen DeGeneres was the night's biggest winner. 
"The most-triumphant winner of the night however, was Ellen DeGeneres," reads the blog post. "The 'Favorite Humanitarian' honoree walked away with 'Favorite Daytime TV Host,' effectively breaking the all-time win record with an astounding 17 People's Choice Awards to her name."
Read more:
But that wasn't the only milestone of the night. Priyanka Chopra took home the award for favorite actress in a new television series for her role in Quantico, making the Bollywood star the first Indian actress to win a People's Choice Award, according to the Indian Express. 
Furious 7 raced ahead of the competition, beating out Avengers: Age of Ultron, Inside Out, Jurassic World and Pitch Perfect 2 as the people's pick for Favorite Movie, and the winning film pulled ahead of several of those challengers in the category of Favorite Action Movie as well. 
Though Pitch Perfect 2 took a back seat to Furious 7 in the category of favorite film, the movie won the People's Choice Award for Favorite Comedic Movie. Meanwhile, the people's picks for favorite comedy actor and actress in a film were Kevin Hart and Melissa McCarthy. 
Perhaps unsurprisingly for sci-fi enthusiasts who fell victim to 2015's novel and subsequent film, The Martian was named the people's favorite dramatic movie at this year's awards show. 
According to the event organizer's blog recap of its awards show, Taylor Swift was a notable standout in the music categories, winning the awards for Favorite Female Artist and Favorite Pop Artist. In television, The Big Bang Theory, Grey's Anatomy, Homeland and Pretty Little Liars all pulled in honors during Wednesday night's event as well. 
The memorable moments were countless, beginning right off the bat with an opening number from host Jane Lynch. In a parody of "Shut Up and Dance With Me," the actress sings, "Should it be Channing Tate/ Or Johnny Depp is great/ They almost make me straight/ I said stand up and choose with me." 
Yet one moment drew audible cheers from the audience in attendance, and that's when, during an acceptance speech DeGeneres said, "Tonight I want to make you happy. So tonight I would like to share with you, I brought a shirtless photo of Chris Hemsworth to share. You're welcome." Cue Hemsworth in the audience with a big smile. 
Speaking of high profile celebrities, Depp took home the award for Favorite Dramatic Movie Actor, and gave a memorable acceptance speech in which he said, "I'm considerably blown away by this because it comes from the people," and proceeded to thank fans for sticking by his side on a long journey that some "people say has been a bizarre road for an actor," Depp added.
For an exhaustive list of all Wednesday night's award winners, head here, and check out the People's Choice YouTube page for clips of all the best moments during the annual awards show.