Rihanna Brilliantly Stalls Release of 'Anti' with Dramatic Interactive Video Journey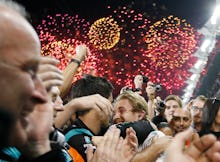 The next step in the long trek for Rihanna's highly anticipated eighth album Anti has arrived with a dramatic and interactive video journey called AntiDiary. As the seventh teaser for the album, the pop star posted a video promoting the interactive site on Instagram, with the caption saying, "It's just beyond the vault. Discover room 7 of the #AntiDiary at AntiDiary.com."
The entire journey is dark, mysterious and dramatic. But AntiDiary is the perfect tactic for the pop princess to buy time with, adding more flair and stylistic context to what the album will be like, and also being a brilliant marketing strategy. 
Read more:
Social media is key for the campaign. The Twitter account @IAmTheKeyHolder has been keeping fans updated — and somewhat teased — on the likes of AntiDiary. Users also need to sign up with their email, Facebook and Google Plus accounts to keep the journey going. The site can also only be accessed from a cell phone, which makes sense since the interactive site is sponsored by Samsung.
"A beautiful prison blinds," the website first reads. "This place is not her end. Another gold fills her eyes." This is #R7.  
The journey begins with a video of Rihanna exploring the vault, and includes the clip from her Instagram post. 
In 3D fashion, users can move around with the swing of their phones, and the bank isn't the only spot to explore. Users can also click on the menu to go straight to other rooms like the studio, bedroom and tattoo parlor. There are seven rooms in total, with fans hoping that the eighth room finally unlocks the album. 
Focusing the screen on different parts of the room activates features of the video journey, which includes theatrical and dark video clips with haunting music and the opportunity to take a picture to embed on a gold coin. The help button is always there to offer clues on what to look for.
In December in New York, a few choice fans got to experience a real-life AntiDiary adventure, complete with Victorian-aged keys and mystery.
Anti has had fans anxiously twiddling their thumbs and refreshing their social media pages, as its been more than three years since her last album. Many hoped it would come out Black Friday or Christmas, but nothing has surfaced yet. 
In mid-December, British pop star Sia gave news that Rihanna was still working with her on Anti, and that it wasn't finished yet. But the clock is ticking, because her Anti tour begins in February 2016 in San Diego, California.