Adele's Miserable Gym Selfie Is the Most Relatable Thing Ever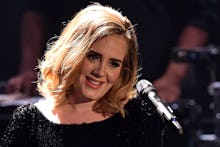 Sascha Steinbach/Getty Images
Leave it to Adele to post the most relatable and viral gym selfie ever. The inimitable singer-songwriter tweeted a picture of herself looking perfectly miserable while working out on Wednesday — and more than 14,000 fans retweeted the pic because it's just so us.
"Getting ready..." Adele captioned the black and white photo of herself tugging a cable crossover machine, while bearing the same facial expression her fans likely had when they realized her concert sold out in minutes and cost their entire life savings to purchase on third party ticket sites. It's unclear what exactly the singer is "getting ready" for, but it could just be 2016. Go girl. 
Read more:
Fans' responses were all over the emotional spectrum, from "omg I love you" to "slay queen" to "while you upload a pic of you at the gym I'm here eating a fucking greasy pizza." Some fans even felt inspired to work out — but it could be the New Year's resolutions lingering in the air.
Adele's United States tour sold out within minutes when tickets went on sale in December but clever people are reselling their tickets on StubHub for her New York City performances starting at $300 for nose bleed seats. Aside from an exclusive one-night concert in November at Radio City Music Hall that partially aired on NBC in December, the tour will mark Adele's first U.S. performance in four years.