Priyanka Chopra Became the First South Asian Woman to Win a People's Choice Award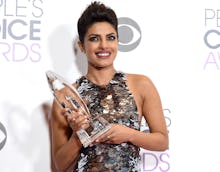 Actress Priyanka Chopra, who has been celebrated as helping to "pioneer" the transition from Indian stardom to Hollywood success and became the first South Asian actor to headline an American network drama series, as the protagonist of ABC's hit show Quantico, is no stranger to breaking barriers. Chopra's People's Choice Award victory last night was no exception, making her the first South Asian woman to win the award. 
"It's my first year in America," Chopra said in her acceptance speech, according to India Today. "And to come to another country, and actually to get this kind of acceptance, I guess [is] what America is all about. Thank you all for accepting me."
Chopra's win is particularly meaningful in the context of an industry still overwhelmingly dominated by older white men. Hollywood studio senior management is 92% white and 83% male, according to a 2015 Women's Media Center report. On screen, women still only accounted for 12% of protagonists and 30% of speaking parts in 2014, according to the same report, and actresses of color fared even worse: White people fill lead roles more than twice as often as people of color, and 17% of films failed to include speaking black characters at all.
While Chopra's achievements seem to position her as an iconic trailblazer for both those who identify with her gender and ethnicity, the actress has previously shied away from being seen as a representative for either. 
"I believe we've created borders with too many colors," Chopra said when asked if her achievements qualified her as "'crossing over,' or breaking some boundary" by the Los Angeles Times in October. "Entertainment is entertainment, cast the right person for the job. Let's get beyond looking at each other for where we come from."
Despite these comments, it appears the actress is increasingly embracing the power of her platform to promote pro-feminist ideas.
"I think empowerment is independence," the actress said — referring to the strong female lead she portrays in her ABC show — during an appearance on Indian journalist Barkha Dutt's show Town Hall in December. Her character's ability to live "life on her own terms" is not only empowering, she added, but "what feminism actually stands for."
Intentionally or not, Chopra's win is a significant one for actresses of color and a hopeful sign that diversity and inclusion might finally be making its way to Hollywood — and hopefully beyond.
h/t BBC