Personal Flying Drones Are Coming to Make 'Jetsons'-Style Transportation a Reality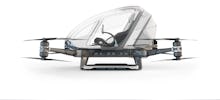 While Amazon and the rest try and figure out how to build drones for transporting packages, one company is building a drone to transport people. 
China-based Ehang debuted the Ehang184 "autonomous aerial vehicle" at the 2016 International Consumer Electronics Show on Wednesday. The quadcopter's cabin, approximately 3.3 feet wide and 6.8 feet tall, can purportedly carry a single passenger with a small backpack. 
The drone is entirely autonomous, meaning the rider can't control the vehicle at all. To fly the drone, a person only needs to enter a start and end destination into Ehang's mobile app and the flying pod will take them there directly.   
Powered by electricity, the drone is also eco-friendly and takes roughly two to four hours to charge. It has a tablet for controlling temperature in the cabin and a reading light in case it's dark, but this thing won't go far. It travels at about 60 mph and stays air-bound for a little more than 20 minutes. It is, however, designed to fold up and fit in an area the size of a parking space. In that way, it could be ideal for a morning commute. 
But realistically, Ehang184 won't be showing up in the U.S. anytime soon if the Federal Aviation Administration has anything to say about it. The federal agency has been vigilant about the rise of hobbyist drone use as well as commercial experiments to turn drones into delivery vehicles, and issued a set of restraints. 
For instance, recreational drones can only be flown at a height of 400 feet in unpopulated areas. The Ehang184 flies at around 1600 feet, well above the recreational drone limit. Plus, it's unlikely that a person using the Ehang184 will be commuting over unoccupied land. Even if they are, they probably plan on landing in a place where there are other people.    
Commercial drones don't have it any easier. Amazon has been plotting its own drone delivery network, making deliveries more instantaneous, but the FAA has been slow to work with commercial entities. To fly drones, businesses have to register with the FAA and file for a special certificate or waiver. Once granted, a waiver will only allow for tightly controlled experiments in "low-risk" areas — hardly an opportunity to employ a mass delivery network. 
The FAA is likely to be particularly skeptical of drones with human cargo. That said, in an interview with the Guardian, an Ehang representative said they were considering building a control center that would take over vehicles in an emergency scenario. That might help allay some FAA fears, but George Jetson dreamers will still have to put their fantasies on hold. It will likely be years before passenger drones are approved in this country.  
h/t BGR