'Daredevil' Season 2 Netflix: Trailer, Release Date and Plot Details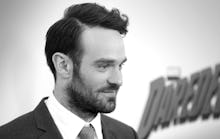 David Buchan/Getty Images
The second season trailer for Netflix's Marvel Comics television adaptation of Daredevil has been made available to fans of the series, as the show is gearing up for a triumphant return to the small screen. IGN reports that the second season will premiere on March 18, and the show will boast a comeback from English actor Charlie Cox, who plays Matt Murdock, a daring young lawyer from Hell's Kitchen in New York City.
The first season of the series was created by Drew Goddard, according to Internet Movie Database, and saw an all-star cast, including Deborah Ann Woll as Karen Page, Elden Henson as Foggy Nelson, Elodie Yung as Elektra Natchios, Jon Bernthal as Frank Castle and Stephen Rider as Blake Tower.
Read more:
"Bigger problems emerge when Frank Castle, a man looking for vengeance, is reborn as The Punisher, a man who takes justice into his own hands in Matt's neighborhood," reads the trailer's caption. "Meanwhile, Matt must balance his duty to his community as a lawyer and his dangerous life as the Devil of Hell's Kitchen, facing a life-altering choice that forces him to truly understand what it means to be a hero." 
Wrote one fan commenting on the YouTube trailer, "Best live action comic book series ever. And one week before Batman [versus] Superman. [It's] going to be a good year for comic book fans, that's for sure. We get Batman, Superman, Wonder Woman, Daredevil, Punisher and Elektra all within the span of one week."
In anticipation of the show's air date, here's the full trailer: