Marco Rubio's Shiny High-Heeled Black Boots Dominated Social Media for No Reason At All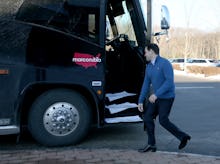 Mary Schwalm/AP
If Florida Sen. Marco Rubio doesn't win the GOP presidential nomination, his boots should. Seriously, Rubio's rocked an unidentified pair of boots at a campaign event in New Hampshire that everyone is talking about. Why? because they're arguably more likable, diplomatic and better-looking than him. 
It all started with a picture of Rubio's unorthodox boots posted to Twitter by New York Times reporter Michael Barbaro, who praised Rubio for his "seriously fashionable black boots" Monday. 
Read more: 
Then the media and Rubio's presidential opponents ran with it. "A Vote for Marco Rubio Is a Vote for Men's High-Heeled Booties," New York Magazine's headline read. Elle accurately compared Rubio's sleek boots to this pair that One Direction frontman Harry Styles owns, which honestly could be just what Rubio's campaign needs to beat frontrunner Donald Trump and top challenger Texas Sen. Ted Cruz in the polls.Vanity Fair weighed in, listing several possibilities to identify the boots, ranging from modest Giorgio Brutinis for $85 to Maison Margiela's for $995.
Cruz's campaign staff seized the opportunity to tease Rubio. "Rubio supports Italian boots on the ground," Cruz's rapid response director tweeted with the same picture of Rubio strutting in his sartorial glory. Cruz's communications director took a more subtle approach by simply retweeting New York Magazine's article.
Former Hewlett-Packard CEO Carly Fiorina basically challenged Rubio to a fashion face off. 
Kentucky Sen. Rand Paul tried to school Marco Rubio on footwear fashion in Whoopi Goldberg's closet (why was he in Whoopi Goldberg's closet?)
Once the madness simmered down on Wednesday, Barbaro commented on what the viral reaction to his mindless tweet says about social media in an Insider piece for the Times. According to Barbaro, a Times photo editor spotted the shoes in an Associated Press picture, sent it to Barbaro for laughs because he used to be the publication's retail reporter, Barbaro cropped out the shoes, wrote a quick caption, pressed "Tweet" and it went viral, "illustrating how mysterious, powerful and, yes, trivial, social media can be," he wrote.