Half of GOP Voters in New Hampshire Are Offended by Hearing "Press 2 for Spanish"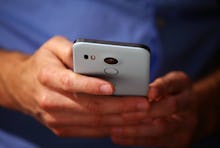 If you ask more than half of GOP voters in New Hampshire, a phone option for Spanish-speakers is no bueno.
According to the data from Public Policy Polling, more than half — 52%, to be exact — of Republicans who will vote in the New Hampshire primary, set for Tuesday, Feb. 9, say bilingual phone menus offend them. In an almost-comforting turn, 40% of GOP voters say that bilingual phone menus are just fine. 
The poll goes a step further: It breaks down who GOP voters support based on whether or not they say "Sí!" to Spanish-language menus. Voters who don't mind pressing 2 for Spanish support Sen. Marco Rubio and real estate mogul Donald Trump at an equal 19% apiece. After that, 14% support former Florida Gov. Jeb Bush, 13% support Ohio Gov. John Kasich and 11% support New Jersey Gov. Chris Christie. Last in the poll was Texas Sen. Ted Cruz, with 6%. 
Among voters who prefer English-only phone menus, 36% support Trump, 13% support Cruz, 12% support Christie, 11% support Rubio, 8% support Kasich and 6% support Bush. 
This latest poll comes at a time where the Latino vote is an increasingly sought-after phenomenon. Of course, both parties have faltered, to varying degrees, to court Latino voters. 
Given Trump's spotty-at-best record on Latino issues, it's no surprise that he's most popular among GOP voters who denounce language options. Trump, despite claims he will win the Latino vote, has done more to disparage Latinos than to court them. Ever since his presidential campaign announcement, when he claimed that Mexicans immigrating to the United States were criminals and rapists, the backlash from the Latino community has been fervent. A who's who of Latinos wrote an open letter denouncing him, and many Latinas, including actress America Ferrera, have spoken out against him.
While Sen. Bernie Sanders has a plan in place to win over U.S. Latinos, Democratic presidential candidate Hillary Clinton has had her share of gaffes in pursuit of the Latino vote. After an article called "7 Ways Hillary Clinton Is Just Like Your Abuela" popped up on her website, Latinos reacted with the hashtag #NotMyAbuela.