Forever 21's Plus-Size Workout Collection — and Its Stars — Send an Important Message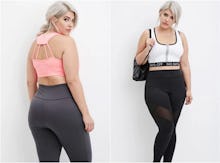 Forever 21 announced Wednesday it has a new collection of athletic gear, which includes a line for curvier women — and it features plus-size models who are proud body-positive activists. 
The workout gear, which the retailer has been promoting online with the hashtag #WorkItOut, is online already, featuring photos of notable plus-size names like Denise Bidot. 
An outspoken body positivity activist, Bidot first previewed photos of the collection of plus-size workout clothes more than two months ago on Instagram.
Another famous face of Forever 21's new ads? Ashley Graham, perhaps the most famous plus-size model in the game. The 28-year-old had a breakout year in 2015 by becoming the first plus-size model featured in an ad in the Sports Illustrated swimsuit issue and earned a spot on Forbes' 30 Under 30 list.
Forever 21's inclusion of plus-size workout gear is a notable step in an industry where many of the top athletic apparel companies sell in a limited size range. Sure, it would be nice if the plus sizes weren't segregated off into their own section. But at the very least, workout clothing and yoga gear, in particular, are difficult to find in larger sizes (remember the whole Lululemon debacle?) even though people are constantly debunking the myth that only skinny people work out. 
In fact, Graham regularly makes note of her own workout routine on her Instagram account, where she mixes in shots of her sweating in yoga pants and sports bras among the typical lingerie shots.
Given her workout regimen, it's no surprise that she's been tapped for campaign for other plus-size sports collections. Together with Bidot and the rest of the faces fronting Forever 21's new collection, she can help remind everyone out there that curvy women can love the gym just as much as anyone else — and they deserve cute clothes for it.