The Ili Claims It Can Translate Your Voice in Real Time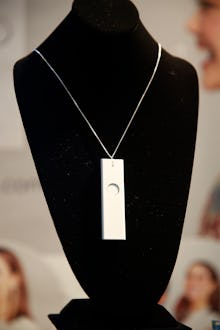 A sleek new wearable thinks it can change the game for on-the-go translation. 
Vaguely resembling a USB stick or a presentation remote, the device, called Ili, claims to be the "world's first wearable translator for travelers." Unveiled this week at the International Consumer Electronics Show in Las Vegas, Ili will be available in this summer, according to its website. 
The design is simple. The portable device has a button and a speaker. One person speaks into Ili while holding down the button; after the user stops speaking, the speaker relays the message in the chosen language. (Right now, Ili only supports English, Chinese and Japanese, but its parent company, Logbar, has promised more will be available in the future.)
Ili's novel feature — and the perk that distinguishes it from translation services like Google — is its capacity to work without a wireless connection. It relies on its own database of words and phrases, which means it can conceivably be used in any situation, whether you're scaling the mountains of Chile or stuck underground on the New York City subway. 
Unfortunately, Ili's representatives at CES were unable to provide a demonstration "due to the noise on the show floor," according to Reviewed.com's Tyler Wells Lynch. (As Wired points out, conferences and other busy spots are probably not the best settings in which to use it.)
If you want to see it in action, however, check out Ili's utterly bizarre promo video, wherein a man from the U.K. uses it in an attempt to ask random women on the street for a kiss. 
Don't place your pre-order just yet. You might have heard of Logbar before: It's the company behind the Logbar Ring, which was described by YouTube product review channel Snazzy Labs as the "worst product ever made." Though the company raised nearly $1 million on Kickstarter for the product, it received a wave of criticism for its hardware, software and just about everything in between.
"It was very, very hard, and we faced a lot of obstacles — but we made a real product. We know it isn't perfect, but it's real," Logbar CEO Yakuro Yoshida offered by way of explanation to Tech in Asia.
Like Ili, the Logbar Ring also made an appearance on the CES floor, in 2015. Let's hope the translator fares better than the "terribly unattractive and poorly designed piece of hardware."
h/t Uber Gizmo