10 Most Memorable Golden Globe Moments, Blunders and Speeches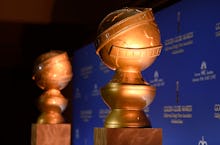 Chris Pizzello/AP
On Dec. 10, the 2016 Golden Globe nominees were announced live by the Hollywood Foreign Press Association. Some of the nominees include Jamie Lee Curtis for her role in the television show Scream Queens, HBO's Silicon Valley and Ellie Goulding's "Love Me Like You Do" from Fifty Shades of Grey. 
This year, the awards show will be turning 73 years old, with the first awards presentation having been in 1944. With the many stars and acceptance speeches, that's more than enough time for some truly memorable — and even revolutionary — moments, blunders and speeches to occur.
Read more:
From singing speeches to a probably drunk Elizabeth Taylor, below are 10 important Golden Globe moments that went down in history:
1. When Amy Poehler and Tina Fey hosted in 2013 and made a very timely Bill Cosby zinger, saying, "Sleeping Beauty just thought she was grabbing coffee with Bill Cosby."
2. In 1998, when Chicago Hope's Christine Lahti won from the bathroom stall. "I was just flushing the toilet when someone said, 'You won,'" she said. 
3. In 2003, when Jack Nicholson won for About Schmidt but made things awkward by admitting he's high on Valium. "I took a Valium tonight, so ..." he said.
4. In 2001, when Elizabeth Taylor painfully struggled with trying to announce the nominees for the for best motion picture drama and accidentally opened the winning envelope. Dick Clark rushed to her rescue after she said, "I usually like to get them." Oh, live television. 
5. In 2005, when Jamie Foxx kicked off his acceptance speech for Ray with a sing-along. Guess that's what happens when someone's on the "ride of my life." 
6. In 2015, when HFPA President Theo Kingma went onstage to show sympathy for the French terrorist attacks, including the one on Charlie Hebdo. "Together we will stand united against anyone who'd repress your speech," he said to a standing ovation.
7. In 2007, when Ugly Betty's America Ferrera gave a moving speech about young girls and body image. "It's such an honor to play a role that I hear from young girls on a daily basis how it makes them feel worthy and lovable and that they have more to offer the world than they thought," she said while choking back tears.
8. When the Rat Pack, including Frank Sinatra and Dean Martin, changed the entire format of the Golden Globes in 1958 by spontaneously taking over the stage — with whiskey in hand. From then on, celebrities instead of journalists handed out the awards.
9. When Tracy Morgan declared himself "the face of post-racial America" after winning his show 30 Rock won in 2009.
10. In 1973, when Marlon Brando became the second person in history to refuse his award for The Godfather as protest against the United States' "imperialism and racism," Rolling Stone reported. 
The 2016 Golden Globe Awards will air on Sunday at 8 p.m. Eastern on NBC, hosted by Ricky Gervais.