India's First Transgender Band Covers Pharrell's "Happy" to Push for Gender Equality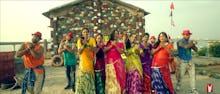 Life for India's "hijra," an ancient community of specifically male-to-female transgender people identifying as between genders, is anything but stable. In the past, the community maintained an important cultural status as ritual performers, but today the community suffers increasing stigmatization, with many living as sex workers and beggars.
However, there are rays of hope. The newly formed 6 Pack, which describes itself as India's first all-transgender band, intend to sing of that hope with the nation. Launched Wednesday by India's Y-Films, the group wants to use music to help further the cause of gender equality in India. 
Their first single, a Hinglish reimagining of Pharrell Williams' "Happy" entitled "Hum Hain Happy," sends a message to the community and its allies: As bad as things may seem there is always a way to find happiness and push on.
"The third gender, ignored by most, tolerated by some, misunderstood by all," Anushka Sharma, celebrated Indian film actress and producer, recites in the video's opening voiceover. "In India, the hijras are a community almost in exile. Standing out at traffic signals after failing to blend in. Knocking on our windows in the hope for some kindness and perhaps a smile. But when they don't get either they keep their chin up and find a way to simply be happy."
The group was put together by Ashish Patil, head of Y-Films, who chose the band's six transgender women, Asha Jagtap, Bhavika Patil, Chandni Suvarnakar, Fida Khan, Komal Jagtap and Ravina Jagtap out of 200 who auditioned. It hasn't been an easy process, and the group has already faced discrimination from certain venues refusing entry to transgender people.
Bollywood composer Shamir Tandon has been arranging the group's music. He specifically chose the "Happy" cover because of the reach it could provide and because the message matched well with the goals of the project. "The idea was to transcend boundaries, so we thought instead of doing a Hindi song let's do an English one," Tandon told the Times of India. "They are always happy despite the fact that people abhor them, disrespect them. 'Happy,' we hope, will be heard by everybody."
The group's next single, teased at the end of the video, will feature Indian playback singer Sonu Nigam.
"I'm extremely choosy about what I'm doing and who I'm working for," Nigam told the Indian Express. "I work according to my wishes and doing this gave me a lot of happiness. This is just the start and my first experience itself has been so enjoyable." 
In the article, he shares stories laughing and singing on set, though he cautions the women not to let the fun of this new experience allow them to lose focus. 
"They are never serious, I told them on the sets that they don't know where their life is heading and that they have to be disciplined and sincere," Nigam said. "And also to be aware of the fact the camera is the eyes of the world, now they're a public property."
Watch the video for the group's "Hum Hain Happy" below: