André 3000 Hints He's Working on New Music in Recent 'Billboard' Interview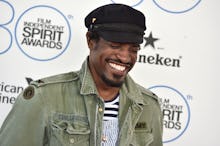 When Outkast dissolved in 2006, its two members took very divergent paths out of the rubble. Big Boi, the street intellectual pimp half, kept on doing what he did best — rapping, regularly releasing projects, the most recent being last year's Big Grams. On the other hand, André 3000, the rare, mythic, spiritual guru half of the late great Outkast, has essentially been in hiding. It's been nearly a decade since we heard a full project with the rapper's name on it, though it has been teased. Yet recent news suggests he has remained in touch with his funk. 
During a recent interview with Billboard discussing his acting role in the new season of ABC's American Crime, André 3000 revealed that he's been quietly working on new music. "I've been holding [back] for a long time, so now I'm really interested in figuring out some type of music to do," he told the publication. "I'm always recording."
That magical sound you hear is 3,000 funky angels suddenly getting their wings.
Since dissolving Outkast in 2006, André 3000 hasn't released a single full project. Yet he's been popping up as a guest on about one track a year, and they've been stellar. His verses on Frank Ocean's "Pink Matter" stretch all the way through the fadeout, and help make that song one of Channel Orange's most memorable. His contribution to Dungeon Family affiliate Future's "Benz Friendz" pushed Future to ease off his signature vocal effects for a few minutes and really spit.
Most recently he appeared on former lover and musical collaborator Erykah Badu's But You Can't Use My Phone, singing and rapping a playful, but inscrutable verse for the mixtape's climax "Hello."
"Our son Seven and I were trying to figure out songs that could help her — songs that were related to the subject of the mixtape: phones," André told Billboard of how the collaboration came to be. They dug up The Isley Brother's 1974 cover of Todd Rundgren's "Hello, It's Me," and ran it by Badu. "I told Erykah, 'You should make this into a new song and get somebody to rap on it.' She was like, 'Well, you should rap on it!' I'm happy it happened. It was a great reunion, because I don't think people have heard a song from us in ages."
If his project boasts anything close to the lyrical dexterity he's exhibited on these recent features, it's bound to make waves in hip-hop — even it does turn out to be largely free of rap. He told Billboard he's been listening to "a lot of jazz, a lot of Thelonious Monk" and Kid Cudi's recent "alternative" album Speedin' Bullet to Heaven, making him just about the only hip-hop authority to speak kindly of the project.
In regard to release dates or potential collaborators, André 3000 is staying mum. "I've gotten in trouble before for saying when or what is coming, so I like to just kind of let it be," he said. 
All there's left to do for fans is wait.