6 Most Successful Contestants in 'American Idol' History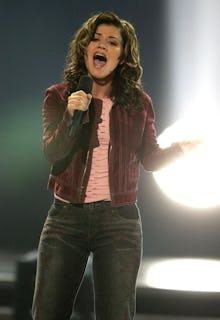 SGranitz/Getty Images
American Idol kicked off its 15th and final season on Wednesday, and will culminate as one of the most successful television programs of the 2000s. Since its inaugural season in 2002, the show has produced several copycats in the singing competition television genre, with the most recent model being NBC's The Voice.
However, Idol was the show that got the ball rolling, and with its success a plethora of talented contestants have had lengthy and prolific singing careers — even if they hadn't won the competition during their respective years. 
1. Kelly Clarkson 
Clarkson was the winner of Idol's first season, and it didn't take long for her singing career to take off. In 2003, Clarkson released her first album, Thankful, which combined elements of R&B, pop and gospel and sold nearly 3 million copies in the U.S. 
However, it was Clarkson's single from her second album, Breakaway, that garnered the most praise in her young career. "Since U Been Gone" not only earned a Grammy for Best Female Vocal Pop Performance, but it has also been deemed one of the best pop songs of the past decade. "'Gone' was so much more than its production," Mic's Kevin O'Keefe, in a story for the Atlantic, said. "It managed a rare trick: It coupled hooky — yet not repetitive— lyrics with a message that transcends time, gender and situation." 
2. Carrie Underwood
Underwood was Idol's fourth winner in 2005, and in the 10 years since she won the competition, the country singer has won seven Grammys, nine American Music Awards, 11 Country Music Awards and was inducted into the Oklahoma Music Hall of Fame.  
Underwood's success has captured significant attention not only in the country music genre, but also in the mainstream music space, having earned the honor of being the only solo country artist to nab a number one hit in the Billboard Hot 100, with "Inside Your Heaven."
3. Chris Daughtry
Though Daughtry didn't win Idol in season five — eventually finishing fourth overall — he has had a more prolific career than season five winner Taylor Hicks, and is one of the most productive contestants in the show's history. Since heading the self-titled rock band, Daughtry, he has produced four albums, with the most recent released in 2013.
However, even without an album release in 2015, Forbes listed him as the third-highest earning Idol contestant of the year, earning $6 million. 
Watch Daughtry's original Idol audition: 
4. Jennifer Hudson
Hudson is another former Idol contest who failed to win the competition, as she finished in seventh place in season three, but she rose to prominence through work in music and television. 
Hudson is the only Idol contestant to win an Academy Award, when she won best supporting actress for her portrayal of Effie White in Dreamgirls. In addition to her on-screen success, Hudson has won a Grammy Award for her self-titled debut album, Jennifer Hudson. 
Watch her moving Oscars acceptance speech below:
5. Adam Lambert 
Finishing as the runner-up in season eight, Lambert has been a mainstay at the top of the U.S. Billboard 200, with all three of his albums opening in the top three. Additionally, Lambert became the first openly gay artist to top the album charts, with his second album — Trespassing — earning the top spot in 2012. 
The release of his third album, The Original High, also put him at the top of Forbes' list of highest earning Idol contests in 2015, as he pooled in a total of $10 million. 
Watch Lambert's original Idol audition below: 
6. Jordin Sparks
Sparks won Idol's sixth season in 2007, when she became the youngest female contestant to win the competition at age 17. Since then, Sparks has kept busy, releasing three studio albums, two EPs and one mixtape.
Her single, "No Air," is also the fourth-highest selling single by an Idol contest, with over 3 million copies sold.