10 Women Allege Religious Leader Close to Duggar Family Sexually Abused Them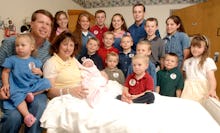 The revelation that Josh Duggar — a member of one of TV's most wholesome Christian families and former executive director of the anti-gay Family Research Council's lobbying arm — molested underage children shocked and horrified the nation last May. It now appears that Duggar's behavior may not have been uncommon in the context of his immediate community.
On Wednesday 10 women filed a lawsuit against Bill Gothard, a religious leader with ties to the Duggars, accusing him and affiliated leaders of "sexual abuse, harassment and cover-up," the Washington Post reported.
Gothard is known for founding and formerly serving as the president of the Institute in Basic Life Principles, an organization that promotes "clear instruction and training on how to find success by following God's principles found in Scripture," according to its website. It's the same center that helped Josh Duggar seek counseling after molesting children in his teens and was otherwise frequented by the Duggar family, according to a Talking Points Memo report.
This most recent lawsuit contributes to a building legacy of allegations. Five women first filed a lawsuit against the supposedly devout figure in October, seeking $50,000 for damages including negligence for their well-being and a conspiracy to conceal their behavior, the Washington Post reported. Gothard resigned from the organization in 2014 following a number of allegations of sexual harassment and molestation, according to a Washington Post report.
The allegations are disturbing. One anonymous plaintiff from the most recent case alleges that after telling the IBPL staff that she was raped and then human-trafficked by her own father as a minor, the organization not only failed to report the incident to the authorities, but Gothard himself threatened and raped her, the Washington Post reported Wednesday. Another woman alleged that Gothard "first put his hand between my legs and felt me all the way up," after she was hired at just 16 years old, according to a 2014 Washington Post report. 
Despite these women's claims and evidence they have presented — including a letter in which Gothard allegedly admits he was "very wrong in holding hands, giving hugs and touching their hair and feet" — Gothard still claims he is innocent of wrongdoing.
"Never in my life have I touched a girl sexually," Gothard told the Washington Post. "I'm shocked to even hear that," he said, adding that claims about sexual harassment were "not true."
Of course, sexual abuse in religious communities is an increasingly documented and recognized problem beyond either Gothard's or Duggar's actions. One 2001 study concluded that as many as 93% of sex offenders describe themselves as "religious," according to a Religion News report from 2014. For example, between 2001 and 2010, the central governing body of the Catholic Church reviewed 50 years of sex abuse allegations against roughly 3,000 priests, who targeted children as young as three, Vice reported in August.
While the outcome of this particular case is to be determined, the plaintiffs' choice to pursue justice is an encouraging example for survivors everywhere and will hopefully be treated seriously and fairly going forward.
h/t Washington Post